Animal of the year photo contest: "The wolf and its doings"
We welcome all as yet unpublished wolf photos, whether showing the wolf itself or a record of the traces of its activities. The latter are particularly interesting, because the traces are the most informative.
As ever with predators, the movements of wolves are often related to searches for food. Always exciting and suggestive finds! While the traces attract one's interest even in snowless periods, then in winter they tell whole stories. Without the winter tracks we would not know even half as much about the wolf and its doings.
In photographing traces of the wolf's activities be sure to choose an angle that supports the story that is told.
Mats Kangur's wolf track story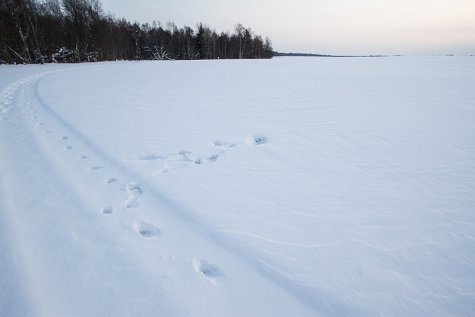 The wolf tracks had been made the day before, on a snow crust that had been blown hard by the blizzard, and where the continuing wind with snowdrift had carried a slight addition of fresh snow. Two animals had been moving – that was revealed by the track trail that separated into two in several places.
In the photo the wolves had happened to come across a black grouse sleeping in the snow. Probably the path from a sledge, frozen hard and otherwise allowing easy and silent steps, carried the sound of the wolves approaching under the snow, and the grouse managed to rise into flight before the fateful jump.
At getting on to the grouse the trail also separated into two. Probably the first animal tried its luck, and the second followed it a few metres behind.
Translation: Liis