The inhabitants
The nest was found only last year by Renno Nellis, and the nest is not much older than that. Last year no eaglets grew up here, and thus installing the camera is a bit of a risk, writes Urmas Sellis in his introduction to the nest in the Merikotkas-news. He continues:
"Quite many different birds visited the nest in the first half of February, among them an adult bird that seems to be the owner of the nest. We saw a white-tailed eagle in the nest for the first time on January 28th; however, we were not able to watch earlier either."
The male stands in front and
the Estonian

B450

female
in the background behind him in the picture below. The female was ringed as a nestling in 2009 so she will be 7 years old this early summer. Her eyes have not yet become the pale yellow colour of fully mature eagles, like the male's eyes have.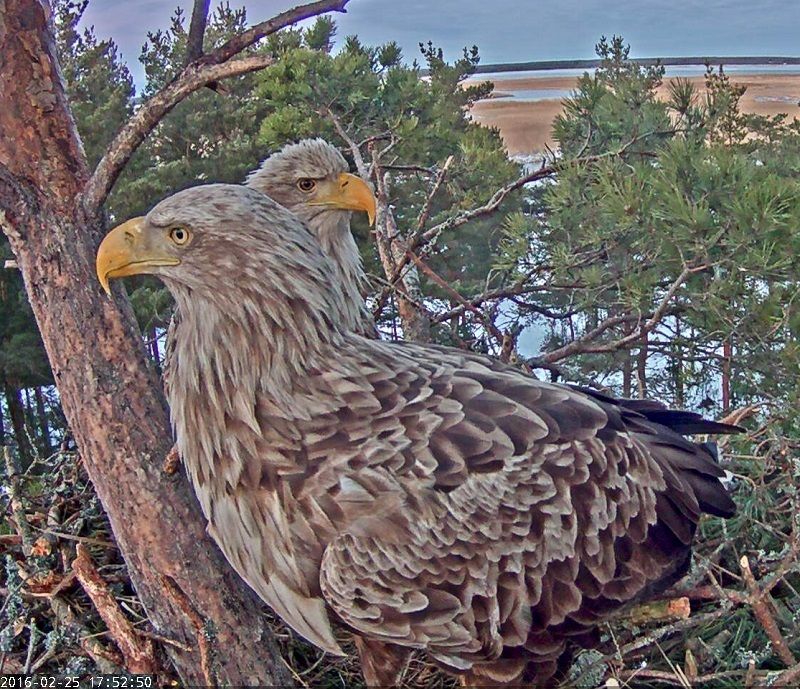 On Feb 26th the eagles were given names by their camera-godparent collaborating company
ETS NORD
.
The female will be called Anna and the male Uku.
Thank you for the beautiful names.
The rings of Anna serve as an excellent marker for separating the eagles from each other. It is not, however, always possible to see the rings. Then other markers will be needed. In some cases (mostly out of breeding season) an adult eagle other than Uku may visit nest alone. In these cases it is useful to have some other markers for identifying the birds. - For more information about separating the sexes of WTEs in general please see here:
viewtopic.php?p=433902#p433902
The WTEs' white tails have black spots which are individual in form and configuration. The appearance of the spots may vary from one occasion to another depending on how folded or wide the tail is. We have started to collect pictures of the tails of both Anna and Uku for reference in such cases when identification is difficult.
The Anna-album can be found here:
http://s561.photobucket.com/user/anmael ... t=3&page=1
and the
Uku- album here
:
http://s561.photobucket.com/user/anmael ... t=9&page=1