Quote:
Rutland, UK: Some sad news…By Holly Hucknall on May 15, 2017

It has been an upsetting day at Lyndon today, as we arrived this morning to see no movement from one of our chicks. Our volunteers in Waderscrape called first thing to let us know there had been no sign of life from the chick all morning, despite the other chick being fed – not a good sign...

Looking back over the footage, we did notice that when the chicks are exposed at 8.30pm, Maya seems to accidentally stand on one of the chicks as she settles back down on the nest – the chick seems to bounce back from this, and Maya has her talons carefully tucked under, but this may have done more damage than it first seemed.

We can't know for sure if this is the reason the

chick died

, as we don't know how much weight Maya placed on it – at this stage the chicks are still very fragile and unfortunately there are a number of things that can happen to end a young chicks life. We are of course devastated by the loss of this chick, but for now we take comfort in the fact that the remaining chick seems healthy and strong.
http://www.ospreys.org.uk/some-sad-news/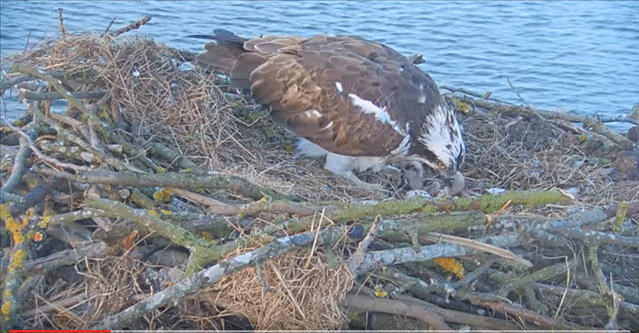 https://www.youtube.com/watch?v=tgyTW1aYF-M
Quote:
Two on the nest once more, By Holly Hucknall on May 16, 2017

We are delighted to report some happier news today – we arrived at the centre this morning to chick number 3! It's not clear exactly when the chick hatched, as 33 has recently added a few sticks to the front of the nest, but we got some great views of it at around 5.50am. Here it is a bit later, being fed by Maya.
https://www.youtube.com/watch?v=-zfa-ncTnQU
© Leicestershire & Rutland Wildlife Trust