for the very beginners i made two pictures to show
how a message can be posted on the board.
first you go to the topic where you want to post. on top of the page (picture 1) and in the bottom (picture 2) on the left side there's a button "
post
reply
" (shown with
red arrow
). i have also marked some other things in the pictures for further use.
click on the post-button with the left mouse-button.
picture 1.
picture 2.
the "
post reply
" window opens. here below is a picture of it. write your text in the window.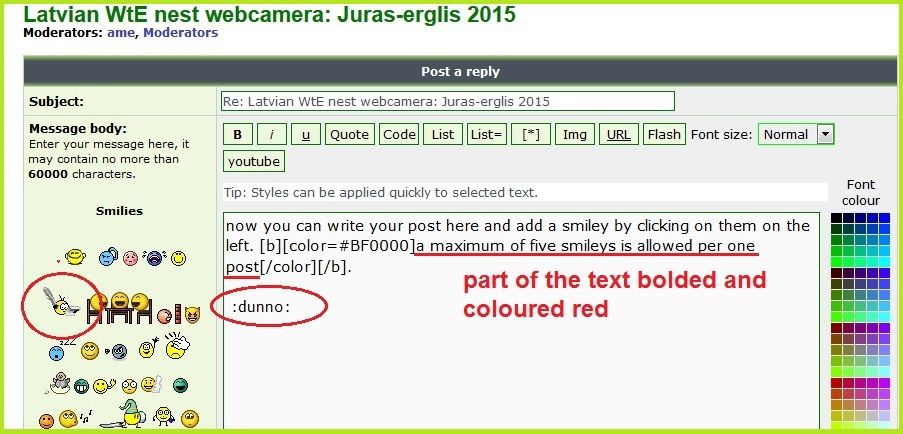 picture 3.
you can modify font by first selecting text and then clicking on
B
for
bold-face
,
i
for
italic
,
u
for
underlining
. you can change font size from
tiny
to
small
to
large
and even
HUGE
(on the right-top; by changing the number you get even more sizes), or colour (on the right side; outside the picture area above). the other way is to first click on for example
B
and the typing between the brackets. you can always have a look what your text will look like by pressing the
Preview
-button which is below the white text-box. when you are done click
Submit
. preview and
Submit
can be found in the bottom of the window. you can also change your mind about posting and click
Cancel
.

picture 4.
below in picture 5 is shown how the above post will appear in the forum.
picture 5.
you will see how things work when you try and play around with things.
even after posting you can still edit your post if you see that there is still something that you wish to change. Edit- and Quote-buttons are on the lower-right corner of the post. i see that you have already found the function of the Quote-button.

two more important buttons are
Img
and
youtube
. these may seem rather distant in the beginning but sooner or later members will want to post pictures and videos, too.

. with these buttons pictures and videos can be added in a post. you'll find help for these things in the Technical questions-thread which is near the top of the board index page.
i hope this will help new members to begin posting. and don't worry about language. for most of us English is a foreign language and still we get along.