Debut by NCH Software
this program can be found on the web:
http://www.nchsoftware.com/capture/index.html
download the free version in a file of your choice. they'll try to make you get GoogleChrome (or something like that) at the same time, but you can refuse if you wish. then install it.
it can be used for various tasks: recording from a webcam, external devices, your computer screen, or streaming video.
i have used it for recording screen events only. first time was when the JWPlayer was introduced in the LK and using VLC wasn't possible for a while. the second time was quite recently for making fake 'close-up' videos of the newly-hatched WTE-chick at the Juras-Erglis nest. i can imagine that people who are making videos from the tawny owl nest might find this program worth their wile trying. by using this the in the night time they could exclude the dark half of the picture from their video.
when you start the program (free version) you will have to click an assurance that you will be using the free version for non-commercial purposes only. click on the 'home-use-only' - bar to start the program.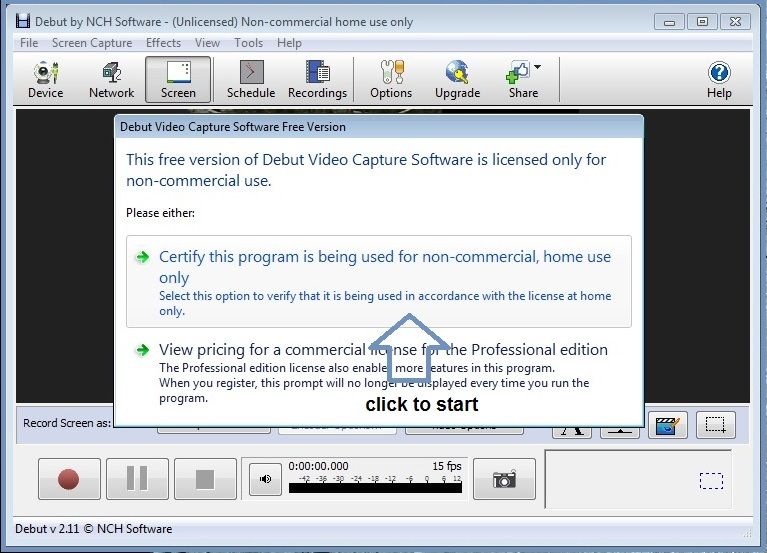 then the opening screen will look something like this:
i lost the sounds at one point and after some time of
i found this note on the Debut-help pages (which aren't btw very helpful).
Quote:
Note:
In order to record audio from another application, Debut must be launched before the other application. e.g.,
To record audio from a media player application, first launch Debut, then launch the media player application.
in other words:
if you plan to make screen records

first

start the Debut
and after it's on then start the VLC or what-ever program you are using for watching the web cam. otherwise there will be no sound on your recordings. to get the sounds you'll have to close the web-cam and that is something we can't do, not for a minute!

Note
: they claim that you can get a free version, but after every about 10 days the free version stops working. you will then have uninstall the Debut from your computer and then download it from their site and then reinstall it again, if you wish to continue using it. i don't know how many times this is possible. they seem to be very eager to sell it to you.