here's an example of a video which has several interesting parts. i have marked here sections which seem to have loud sounds in them. i have placed the pointer on a section with a lot of sounds so this section is highlighted with orange. the other sections are blue, except the left-most and right-most sections which are black. they are excluded (trimmed out) because i moved the left-most start pointer to the right and the right-most stop pointer to the left, and thus i excluded those section from the video altogether.
about the other sections i need to tell Solveig which i want to keep and which should be cut out.
this is done by moving the pointer to each section and selecting one of the choices in the EDIT-drop-down menu inside the blue rectangle: keep or cut out. this is especially practical for example cutting out commercials from films or TV programs which you have recorded.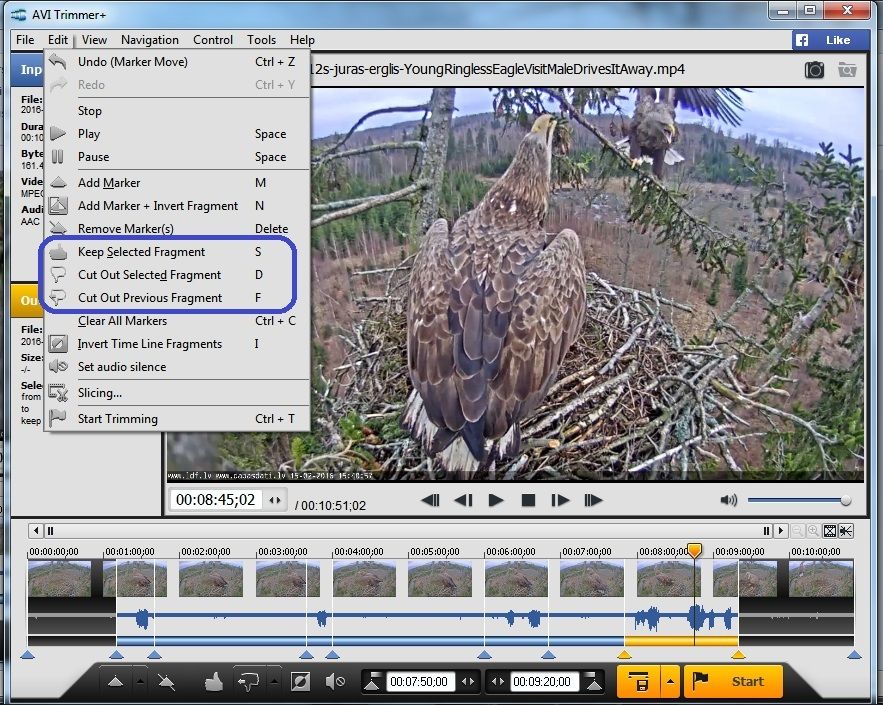 if you wish to make several clips of one video you need to select one section at a time for keeping and un-select the rest, and them make several clips one at a time.
i have noticed that if trimming is all that is needed then
Solveig is much quicker than AVC
which i have used for both clipping and converting videos. probably it is the conversion which takes a lot of time. i think that AVC is slow because it sort of winds to the start point of the clip very slowly before it even starts doing anything. Solveig probably goes straight to the start point. the difference in their speeds is especially pronounced with very long videos (several hours long like Pontu videos).
if a Pontu video is downloaded from the archive before it has finished recording then the End-Of-File marker (EOF) will be missing from its end. one great advantage of
Solveig
is that it s
eems to be able to handle these 'broken' videos much-much faster than AVC.
i just process the Pontu video without an EOF with Solveig and within less than a minute i get a decent video which can easily be further trimmed and handled. with AVC this process may take hours. Solveig beats AVC with a million to one in this competition.
i still need AVC for converting videos, even normal VLC-videos, because Youtube still can't process all of them without processing them to mp4. i can't understand why because Vlc records videos in mp4.... this is a mystery to me.
this is what i have learned so far. i think it is a good start. when you learn more tricks please make a post of them here.