Nappu is 5 years and 5 months old.
She is Finnish Lapphund (''lapp'' refers here to Lapland!

), or Sami dog, she probably would be able to herd reindeer easily almost on her own. This old dog breed has not been used to hunt mammals nor birds.
Of course the instinct is there somewhere, and it can wake up by 'accident'. She should not run after squirrels or birds e g. But she does.

For one time she caught a squirrel in her mouth, but she didn't harm the squirrel. The squirrel was the most loved, adorable Paula! Paula just happened to climb on the house wall, and she had some injury on her other front paw, and she fell down..


Thanks heaven, Nappu kept her between her teeth for one second only and let Paula go..
wikipedia:
The Finnish Lapphund is a hardy, easy going, medium-size breed of Spitz type. Traditionally it has been used for herding reindeer. Although it is one of the most popular dog breeds in its native country, Finland, it is not very numerous outside of the Nordic countries.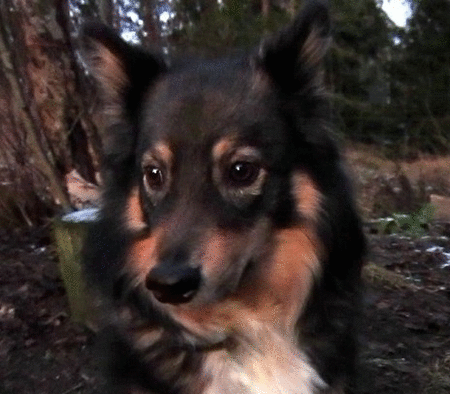 http://picasion.com/
Nappu today.
I don't know why my photo bucket does not work properly. I haven't managed to upload not one picture to PB since yesterday nor today..