Felis!
Apple jelly for winter, cooked and flavored with pure lemon juice and sugar. Soon ready to be stored in freezer.
3,5 kg! ( glass jars would be more beautiful, but it's easier to store the jam this way..)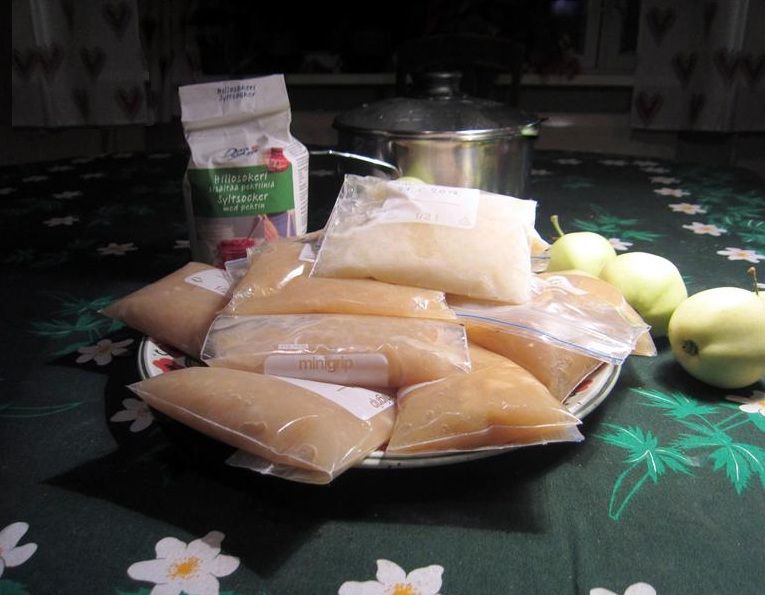 The name of this light green yellowish summer apple is
'Valkea kuulas'
('white clear'- says google translator, but it does not describe the picturesque word
'kuulas'
.. kuulas is something pure, fresh, light and bright, a bit cold and a bit transparent - all this at same time.
E g a day, the weather of a day can also be said to be
'kuulas'
, like those sunny mornings in late summer in Northern countries when grass is still green, but there is a lot of dew, or the most beautiful days of fall when the sky is bright blue and and the clouds are few and very high and the leaves of birches are turning yellow, those days are
kuulas
too.
Malus domestica
in Latin. It is an apple species, that originates from the Baltic countries, I think from Estonia, about in the years 1800!

It is one of the most loved and popular summer apple species here. These apple do not suffer 'appleworms' or other illnesses, - perhaps something sometimes, but they are rare, never bad. They need to be eaten as soon as they are rape and fresh, or to be made jam.

What a long story.. but, there it is.