December 1st, 2010, 2:31 am
BirgitK wrote:Really a great international co-operation, Macdoum! :)
Three of the white storks are almost identificated. Their stories are coming soon. Hopefully I´ll receive the story of the german white stork today (the DER ringed one).

Kind regards
Birgit

Birgit..all I have managed to find about ringed storks is; The ring must be read from top to bottom and
odd
years found on the
left leg
and
even
years found on the
right leg
.
The first letter gives one the country of origin.e.g. C= Luxemburg or Belgium
They ask one to report to ;
http://www2.mnhn.fr/crbpo/
as that is in french I don't know if it would be any help to you..maybe they have an english listing
There are so many interested groups in Alsace re; Storks but I cannot find a link to report bands..it's very strange.!
December 10th, 2010, 9:41 am
Thank you very much, Macdoum!

Now I have the story of the german white stork, too. It´s a very young one (seven month)! Story is coming soon!

Kind regards

Birgit
December 11th, 2010, 5:51 pm
Now Birgit got the 'personal history' of the White Stork, which she met at the garbage dump of Los Barrios November 28 2010. It's a very young stork from Langenbrücken (Nordbaden)
Here is the personal history:
White Stork AE 314 DER – personal history
Isn't it terrific, that this young chap made is all the way to Los Barrios, Southern Spain!? Without any GPS! Without maps, only guided by his clever head! We are enthralled!
December 11th, 2010, 5:54 pm
This morning Birgit took a short trip to the nearer surrounding and met this nice young Reed Bunting: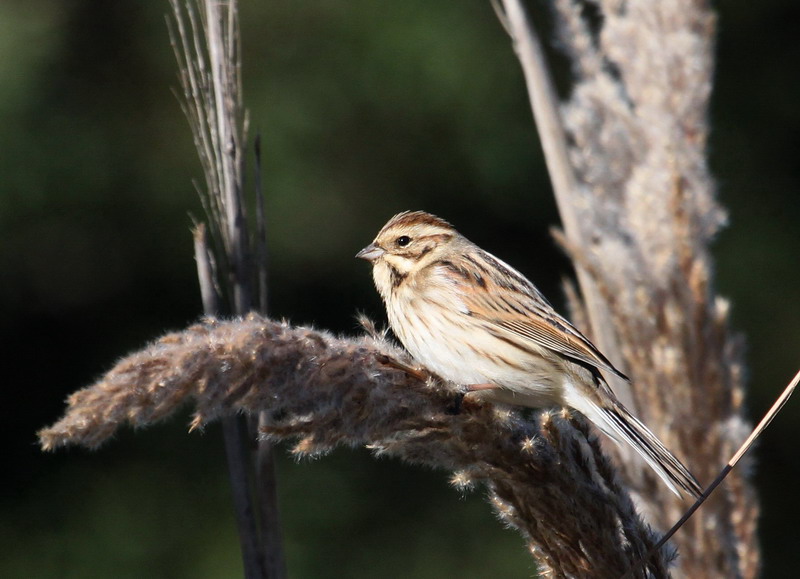 The short photo report you find here:
Guadalmansa-Mouth and impouding reservoir of Las Medrañas
December 11th, 2010, 5:58 pm
Here a few 'bad weather photos' from last weekend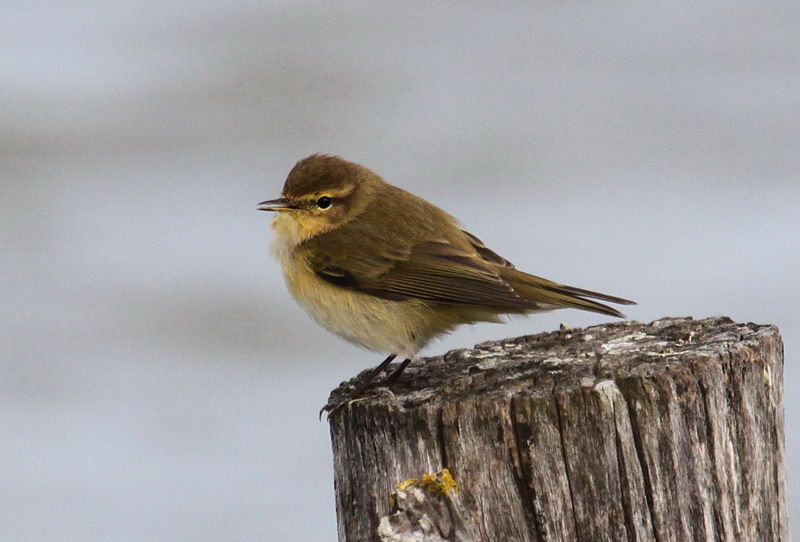 at
Sanlúcar and surrounding
December 15th, 2010, 1:11 am

Birgit has done it again,more lovely scenes of birds in their habitat and hardly disturbed by the people.!
..~~

December 29th, 2010, 7:33 pm
Yesterday Birgit had been in fine weather at Fuente de Piedra, where beside Flamingos also hundreds of Stone Curlews were waiting. What a joy!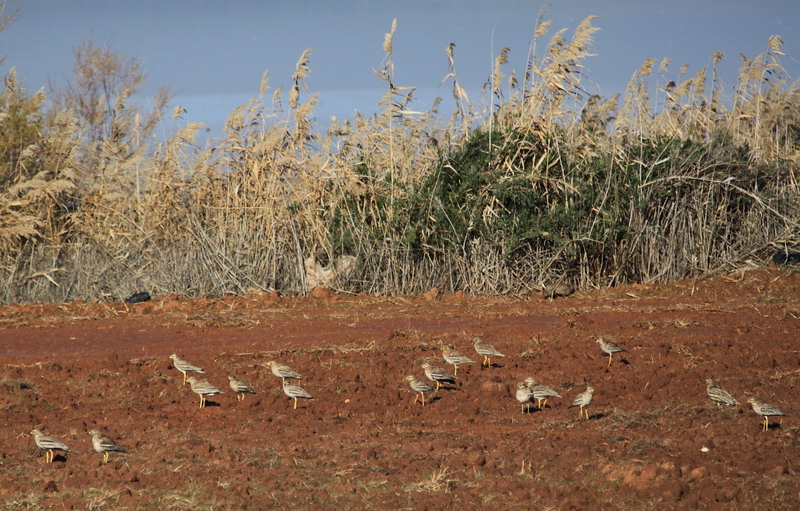 Here you can find all the nice experiences of the day. And also the story why out of seldom Little Bustards just became Red-legged Patriges
Lagoons of Campillos and Fuente de Piedra
December 29th, 2010, 7:36 pm
And Birgit also had been at the Guadalhorce-Mouth! Since days she heard enthralled informations from Spanish bird friends, that shortly before dawn a Short-eared Owl is making soundless flights. Sunday Birgit wasn't lucky, but today: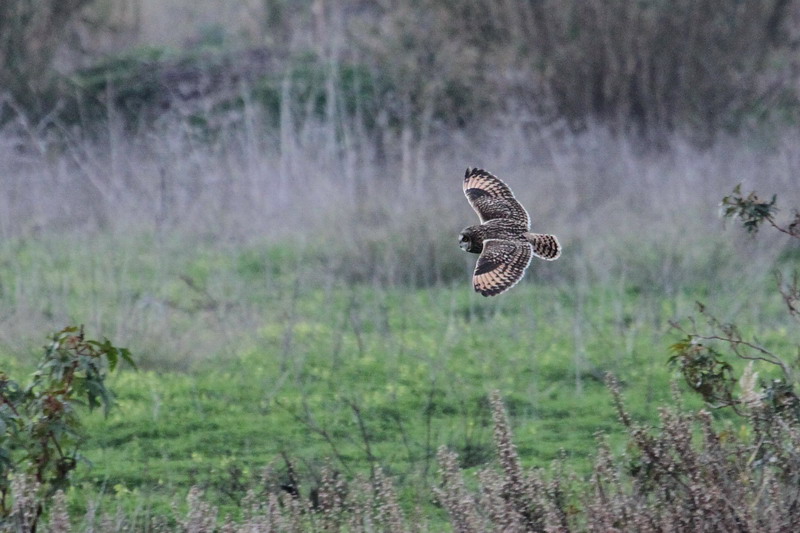 The complete report you'll find here:
Guadalhorce-Mouth December 26 and 28 2010
January 5th, 2011, 8:50 am
Birgit and her friend spent the beginning of New Year at Guadalquivir. There they again met a banded German Osprey but unfortunately they were not able to read the complete number ...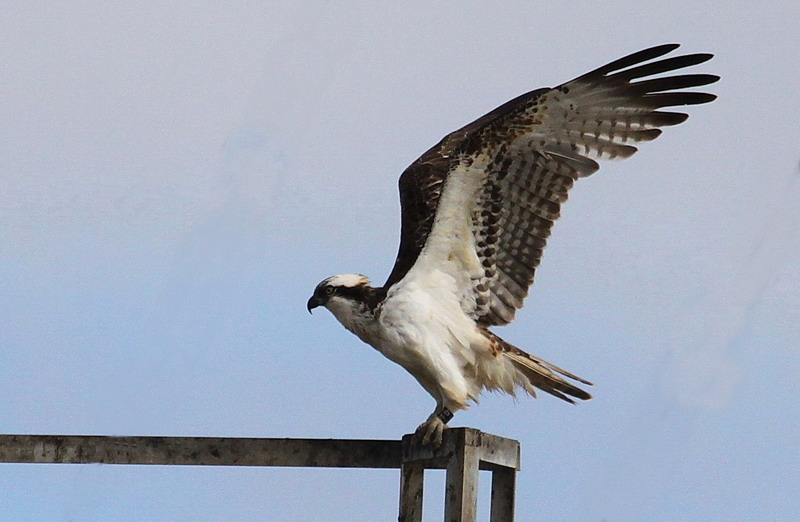 What else they experienced you can read here:
January 1 2011 - Salines of Bonanza and more
January 5th, 2011, 8:53 am
And now you have to be strong, same as Birgit and her friend were. Because the next day there was heavy fog at Brazo de Est: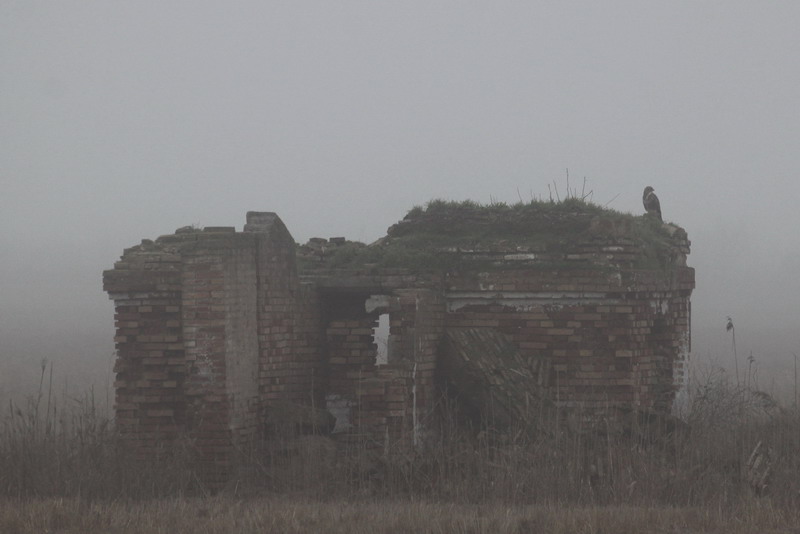 But despite that they enjoyed the day very much!
Here you find the report:
Brazo de Este in the mist – January 2 2011
January 6th, 2011, 8:39 am
Birgit and Brit -- I often look but remain silent, which is a bit rude when you go out and take pictures and translate the words into English for us. I just wanted to say again I always enjoy the pictures and sometimes forward them to my dad.

I especially sent him the set with the short eared owl because the last time he and I went out we saw a bald eagle and a Golden eagle and quite a few other things and he said something like wow -- now the only thing we might see that would make me call your mother would be a short eared owl. Of course we saw no such thing.

His response to the photo set was "Birgit does good work."
January 6th, 2011, 6:14 pm
Thank´s a lot, Alice! I´m very happy you and your father enjoy the pictures and I wish you a lot of phantastic adventures in your nature!!!
January 10th, 2011, 2:54 pm
The Whinchat also caused some stir on the Spanish Birdlists. Because actually they should be all in Africa by now. All were happy about the documented exception. And for me it was exciting to follow up how the photo was analyzed to the smallest details to make sure that it was not a mistake. But – upto one exception – all agreed: in fact it is a Whinchat.
Whenever I see a fluffy Teal toy (???) at a toyshop I immediately will buy. So cute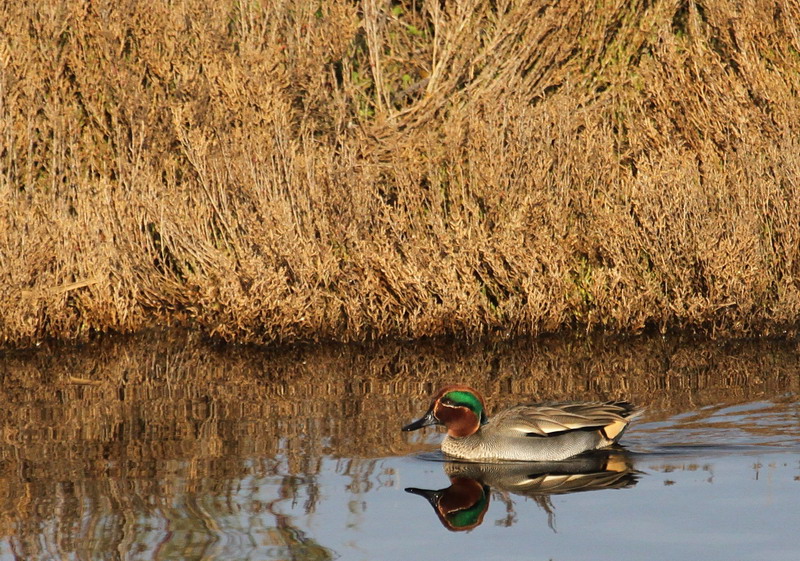 Here the complete short report about our trip to the Guadalhorce yesterday:
Guadalhorce-Mouth – January 8 2011
January 16th, 2011, 6:21 pm
Spring is coming at the Guadalhorce! This impression you could get today in dream weather with warm temperatures. That also lured out the Butterflies and the Kestrels performed the courtship display.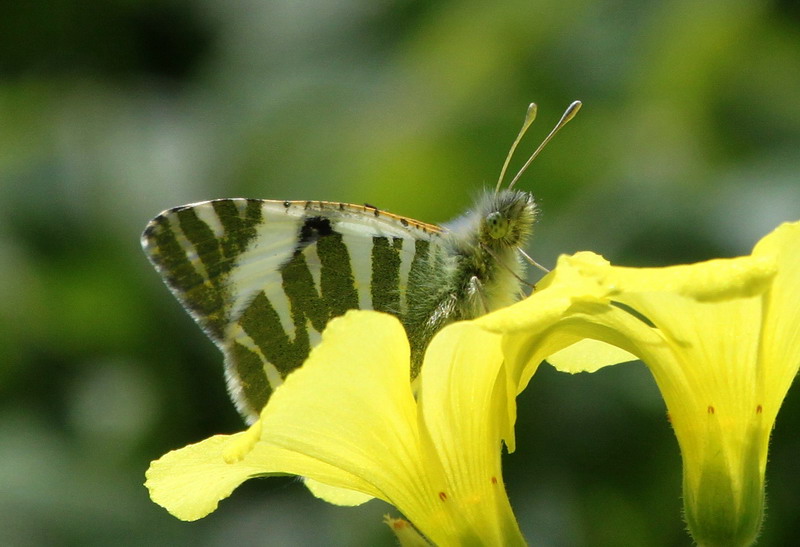 Imagine, today we saw THREE Short-Eared Owls, BUT … at that time unfortunately the sun was gone
Here you find the short report:
Spring is coming at the Guadalhorce – January 13 2011
January 18th, 2011, 6:18 pm
The Guadalhorce really got it's own fascination! How often Birgit and her friends heard walkers saying "well, here are only a few ducks" while quickly moving on. Well, Birgit and her friends had been there yesterday for 7 hours and they only left because it became dark outside.
The spectacle of the White-Headed Ducks, here a female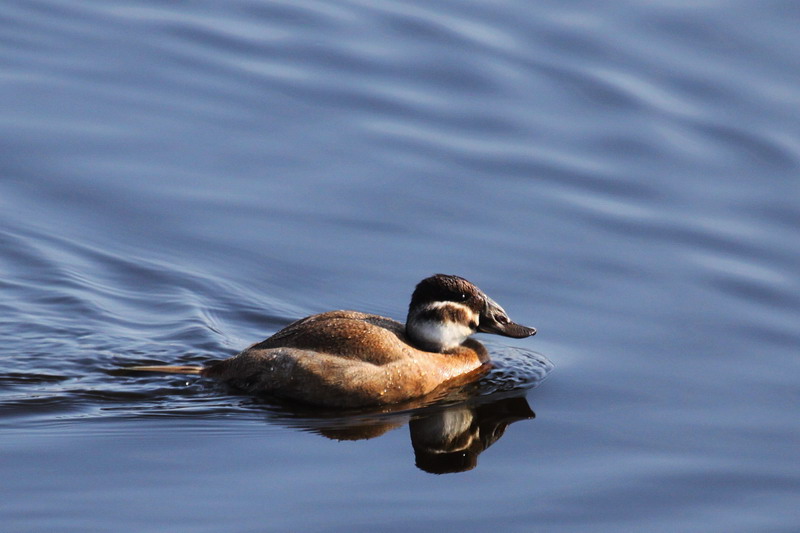 Already starts. The male White-Headed Ducks namely fierce battles for the favor of the ladies.
And the Short-Eared Owls flew around from 17h30, what means half an hour before dawn. It just was terrific.
Here the report:
Guadalhorce-Mouth – January 17 2011
January 18th, 2011, 7:04 pm
As you might remember, were we able to watch a banded German Osprey at the Saline of Bonanza on January 1 2011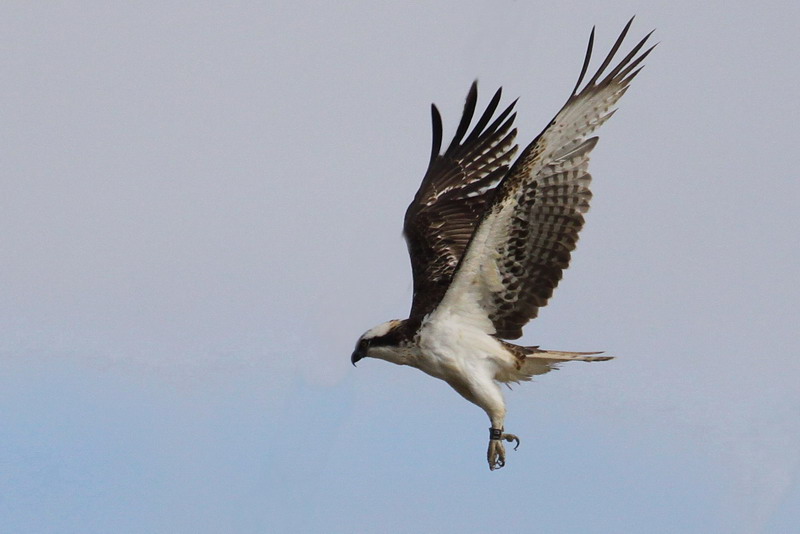 Now after I got all the data from Germany, - here is the Biography of this wonderful young bird:
Banded Osprey 1 TD - Biography
January 29th, 2011, 9:23 pm
Today finally the weather changed to its best and this distant view to the Sierra Nevada was to be seen from Granada: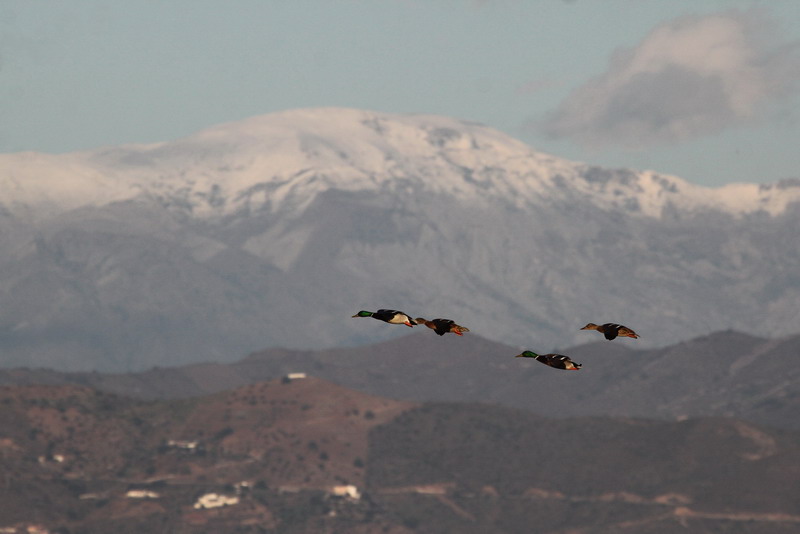 The short photo report you'll find here:
Guadalhorce-Mouth – January 27 2011
January 31st, 2011, 8:45 am
While the Water Fowls started a peaceful competition for the beauty of their eyes, the Marsh Harrier ladies were fighting not ladylike for the rats: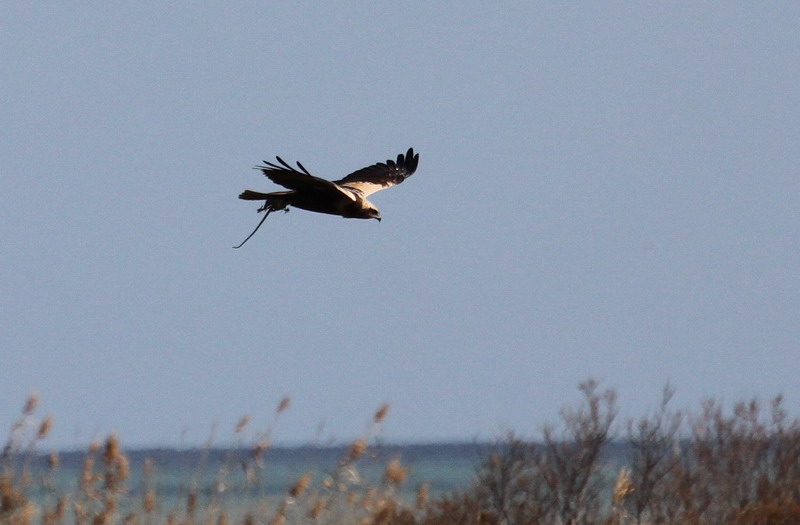 Here is the story:
Marsh Harrier and others at the Guadalhorce - January 29 2011
February 1st, 2011, 1:01 am
Thank you
Birgit
and
Brit
! Another great adventure
in southern Spain.

February 4th, 2011, 12:28 pm
With pleasure, Macdoum!