April 26th, 2012, 7:04 pm
Two fish


Is anything wrong?

April 26th, 2012, 8:12 pm
Two ospreys back on the nest now.

April 27th, 2012, 4:02 am
April 27
It is not quite 5AM, and still dark (on the cam),. but the ospreys are mating... I have no idea which two these are, Urmas' article about all the females has made me unsure of everything.
Well, one thing I think is that this female is NOT the same one I have seen on other early mornings on this nest.
osprey_Estonia_4-26-2012 10.05.32 PM_63
by
aurospio
, on Flickr
April 27th, 2012, 4:39 am
April 27th, 2012, 6:17 am
April 27th, 2012, 6:36 am
He often stands in a submissive (?) posture, with wings spread and his back to her, then he turns around and jumps on her back - it does not even seem to be mating.
6:09
6:57 (one of several)
7:01 Her crop looks very full as He tests the nest bowl
Both leave the nest several times and return with lichen-covered branches.
example from 7:10
April 27th, 2012, 7:12 am
That is some branch!

In this case the nest testing seems to be nest bowl showing off -- he is demonstrating how nice and well designed it is.
April 27th, 2012, 3:44 pm
I'm at the moment not really getting who is nest owner, who is partner and who tries to come in
I think just now there was sort of a fight, and I saw at least three ospreys flying into the woods!
April 27th, 2012, 5:03 pm
I also saw that the Osprey fought a nest. The new Osprey was without ring on the leg and some times landing at on the nest, and then was attacked by the hosts. Last time when the new Osprey sat on the nest, it was a little shabby.

I'm sorry that did not have time to make shots, I was at this time is very busy and could only watch.

Yet it seemed to me that the new Osprey is a girl, because when the Osprey sat in the nest, she sang like a girl-hostess.
April 27th, 2012, 5:22 pm
who are you?
April 27th, 2012, 5:26 pm
At least in this episode the attacked osprey seems to be the lady who has been in this nest in the last two days.

April 27th, 2012, 5:57 pm
unp, thank you for the video!!

The first osprey on the nest looks like the one I was watching early this morning. The second scruffy looking one was probably attacked by the first?

This all reminds me of what some of us are following on a Bald Eagle nest in Norfolk, Virginia (US). The long-time resident female there was killed one year ago (she was eating on the airport runway and was hit by a landing plane). The male has kept possession of the nest, and there have been 4 young females trying to bond with him. He has mated with each of them but none has produced eggs. With some of them, he has attacked them first to push them off the nest, but then appears submissive and then finally accepts them and mates. However, each female chases off another one. I has been like a "soap opera" there.

It seems that this male osprey also might not be bonded with any one of the females that we have seen.
April 27th, 2012, 6:02 pm
The first female seems to be the new one (the middle strip in the forehead is not that wide). The male left with the fish. Then probably came the current lady but I'm not sure.

April 27th, 2012, 6:08 pm
It's really puzzling!
One comes, chases the other away, comes back, gets a fish ... Looks like the relationship is not yet clear!

Absolutely like a soap opera! Lets wait and see who else will appear as well!
Wikipedia says:
Ospreys usually mate for life. Rarely, polyandry has been recorded.
April 27th, 2012, 6:08 pm
unp ... did the male bring the fish and then leave with it again?
~~~~~~~~~~~~~
I looked to see what I might find about Opsrey mating. These quotes were taken (by someone else, from the book
Ospreys: A Natural and Unnatural History
by Alan Poole, Cambridge University Press; First Edition edition (March 2, 1989)
Most copulations take place at the nest because females spend most of their time there, but they can occur anywhere.
No elaborate ritual or display precedes mating.
Females sometimes appear to solicit copulations by tipping forward with raised tail and dropped wings (Sailler, 1977), but this is subtle behavior and hard to decipher.
(also- unless the female tips forward at 45 degrees, the mating is not "real")
At other times, it seems that the males mount with no signal from from their mates, flying in from behind (like Yeat's Zeus landing on Leda) or fluttering up onto the female from the nest edge.
Pairs mate most frequently just prior to egg laying.
Earlier copulations may have little to do with fertilization, serving instead to test a mate's receptiveness (strengthen the pair bond) and to synchronize the development of the gonads
. This latter aspect is especially important because females probably arrive back at nests each year with ovaries only partially developed, then going through a period of rapid ovarian development. In this phase, ovaries gain 5 to 15 times their initial weight before descending the oviduct (Lofts & Murton, 1973)."
April 27th, 2012, 6:17 pm
In the last two days the male sometimes came and left with the fish. Maybe it's not important that he left with the fish this time. But the lady in the nest now doesn't look like the one of the last two days.
April 27th, 2012, 6:20 pm
Whoever the female is,she's ordering the male to bring her fish pronto.
April 27th, 2012, 6:32 pm
Excellent video snapshot, unp, thank you!
unp wrote:At least in this episode the attacked osprey seems to be the lady who has been in this nest in the last two days.
I found a kind of osprey weblog: summaries of the breeding seasons 2006-2012, text (in German) and pictures. Obviously these nests have a lot of visitors… ospreys and other birds/animals.
This year people observed red kites in the nest in March. The first eagle landed early in April, followed by others. Two weeks later a pair of buzzards took over the nest. It is also an artificial one, built on a former electricity pylon near Muldestausee (Saxony Anhalt, East Germany). Ospreys settled there for the first time in 1995. Since then several breeding pairs successfully raised 29 young (1995-2011). 27 were ringed. A male osprey, hatched in this region in 1999, settled in 2002 near Paris – 802 kilometres southwesterly from the place where he was ringed. Eagles cross borders…

Here is the link
http://www.informationszentrum-hausamsee-schlaitz.de/?id=104512000009
April 27th, 2012, 8:14 pm
The eagle in the nest (not ringend) called loudly. 19:54 Mr. Right brought a fish. Miss no-ring-nowhere received it as a gift. He left the nest 20:04. She followed him a moment later. (I´m not really sure about "she" and "he", but the not ringed bird appeard taller, so I think it was a female who ate the fish and the male who delivered it).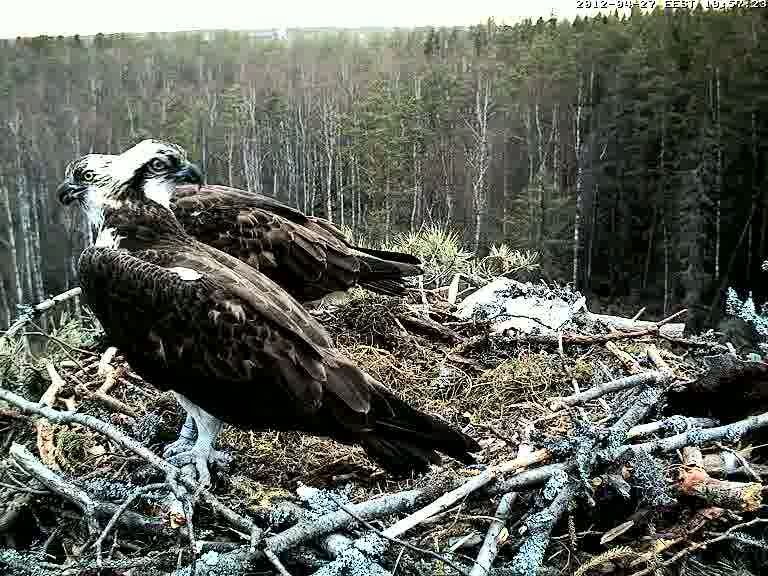 Ring at the right leg
April 28th, 2012, 6:10 am
April 28
Good morning to everyone!
Here they are in this morning , making a nest more comfortable
P.S. I am new, so I hope I'm doing right