alice44 wrote:
About that prey
I think the tail is the most important determinant between the weasels and the stiff old tail was difficult to tell much about.

(poor creature)
from my book about Estonian wildlife
kärp ja nirk: Mustela ereminea et nivalis
Mustela ereminea-hermelin (lumikko, kärp)- 16-29cm, 100-450g
Mustela nivalis- weasel (kärppa, nirk)- 15-25cm, 70-130g
(I put the names in finnish and in estonian too, because there is always confusion between these two relative languages. Exactly the same or similar words, but a completely different or the same meaning.)
Both have with white belly brown summer coat and a white winter coat. Hermelin (stoat) and weasel are very similar between the animals of the same diet and habitat. Appearance can discriminate between them by the tail tip. Hermelin tip of the tail seems to be dipped in black color pot, which becomes particularly pronounced in winter white fur coat. But a weasel tail is same color as the rest of the body. There is also a stoat larger, although not significantly, rather than implicitly. Stoat and weasel have spread all over Estonia and is a regular anywhere.
Already in ancient times, has been to say: if there is a hermelin or weasel may be domestic cat to sleep peacefully, because mice are not more concerned about.
Pontu picture 10 august 16-59 tip of tail seems brown.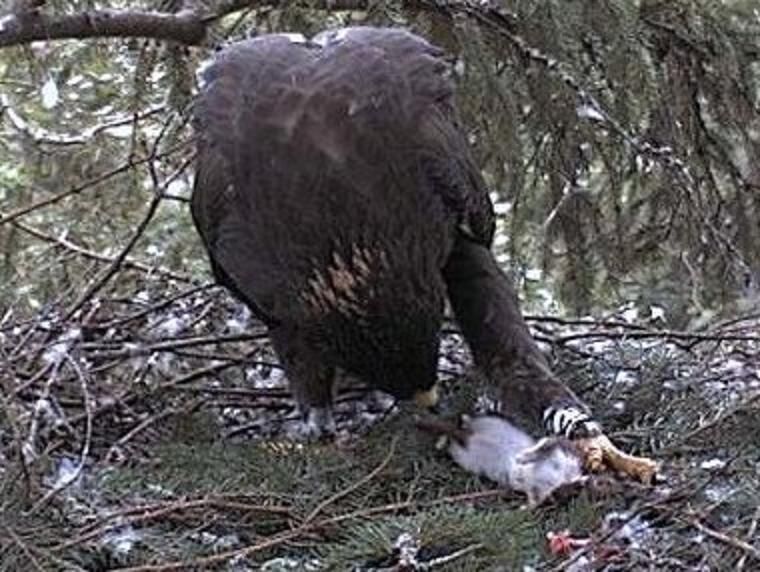 Pontu picture 10 august 18-39
I also remember, that 2009 they eat at least 2 weasel and when the season was over then one weasel came to inspecting the nest.
(Koit old nest about 50m or 70m away).
Maybe Kalev spend some time at Spot nest too
Mik's parents this year have brought to the nest about 5 weasels. They would probably have extirpated a whole weasel family.