yes, i was also surprised of this. the uncertain K019 in Nov 2015 looks very young indeed. can the eagles really change so much in just 14 months??
i didn't include the Nov 2015 observation in the list of identified eagles because it remained a bit uncertain then. today we saw clearly enough i think.
there was a little bird on the nest for a few seconds.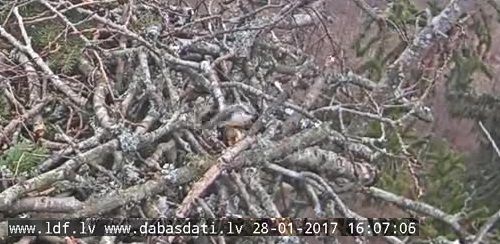 stripes on top of the head. here it is looking our way.
it was so in grey-scale and small that it was difficult to see. i made a slow motion (1/5 of normal speed) close-up video:
perhaps it was a tree creeper?

normal view video: