i have finally found one super-super-picture which was lost for a very long time. it was published in the montly supply magazine of the newspaper
Helsingin Sanomat
in March 2010. it's taken by the nature photographer Jussi Murtosaari a year earlier (i.e. in March 2009) at an eagle feeding place somewhere in SW Finland.
the magazine got lost in our house as paper sediments are piling up in the corners. i tried to look for the picture in the internet, without success. today i finally found the magazine and took a picture of the picture which i've posted here. it's a wretched replica of the real printed picture which is 48 cm x 22.5 cm in size, but i hope it will give you some idea of the situation on that opening of the marsh. (-sorry about the size. i've already re-sized the picture down to 50%.

)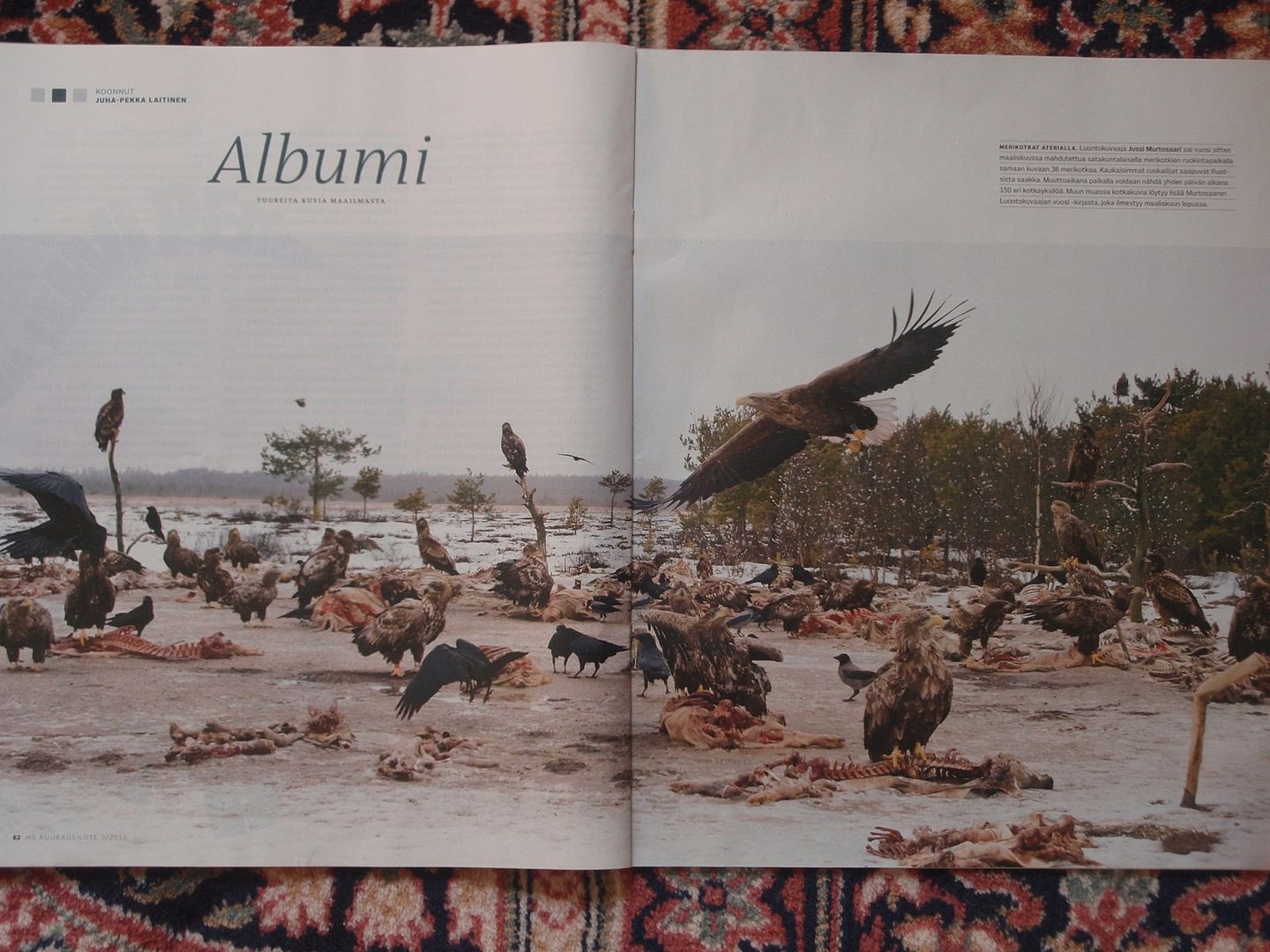 (as a compensation for borrowing the picture i think i can mention that J. Murtosaari has published a book where there are more pictures of eagles and other creatures. they are accompanied with stories of how these pictures were taken, but alas in Finnish. there are summaries in English, however. the publisher is Docendo http://www.docendo.fi/tuote/951-0-36084-8)
the text says that there are altogether 36 WTEs captured in this one single photograph!
they are accompanied by the usual entourage of ravens and hooded crows.
i made a re-count of the eagles and i think there are 37 of them! i think they have missed the one that is flying in the centre back-ground. i missed that, too, on my first count.

when i saw the picture in the magazine for the first time my first thought was that the picture was just a joke, a collage of several different pictures put together, but later i've realized that it's a real thing, as we have seen WTEs in flocks on the winter feeding grounds, and reports of LSEs in flocks on their winter grounds...