i've learneD that uploaDing viDeos in Youtube is the easy part of posting viDeos. for me the much trickier part was to obtain a Youtube account in the first place. (that was partly because i maDe some stupiD anD silly mistakes in the process...

)
i can't use the small letter D in my writing, because it makes tricks the VLC-player-screen which i'm using to watch the WTE-camera right now. try not to pay attention to it...

below i will try to Describe how to get a Youtube account.


jag skall försöka berätta här hur man skall få ett Youtube-konto i härföljanDe.




seuraavassa yritän kuvailla, miten Youtube-tili avataan.
Youtube is a part of Google.com so actually you'll have to obtain a Google-account first anD then aDD Youtube into your Google-account.
first go to the Youtube-Google-homepage. there you will see a blue bar with the text: "Don't have an account? Sign up for Youtube!". press the bar with the right mouse button.
Youtube är en Del av Google.com så ägentligen måste Du hämta ett konto viD Google och sen tillsättä ett Youtube-konto i Google-kontot.
gå först in i Youtube-Google hemsiDan. Där ser Du en blå balk meD text: "Don't have an account? Sign up for Youtube!". pressa på balken meD Den högra musknappen.

Youtube on oikeastaan Google.comin osa, joten sinun pitää hankkia itsellesi Google-tili, johon lisäät Youtube-tilin.
mene ensimmäiseksi Googlen kotisivulle. siellä näet sinisen palkin, jossa lukee: "Don't have an account? Sign up for Youtube!". paina palkkia hiiren oikean napilla.
in the next winDow they ask whether you alreaDy have a Google-account. assumingly you Don't anD therefore you'll choose to fill in the information which is requireD on the right siDe of the winDow. it may be a gooD iDea to write the passworD of your choice somewhere. then press the button with the text "Create new account anD finish".
i Det följanDe förstret frågas Det om Du reDan har ett Google-konto. troligen har Du Det inte och sen ska Du svara på frågor på Den högra siDan av fönstret. Det är kanske ett bra iDé att skriva ner Det lösenorD Du väljer. seDan pressa på balken meD text "Create new account anD finish".
seuraavassa ikkunassa kysytään, onko sinulla jo Google-tili. oletettavasti ei ole, joten täytä oikealla puolella olevaan taulukkoon kysytyt tieDot. valitsemasi salasana on ehkä hyvä kirjoittaa muistiin. paina sitten palkkia, jossa lukee "Create new account anD finish".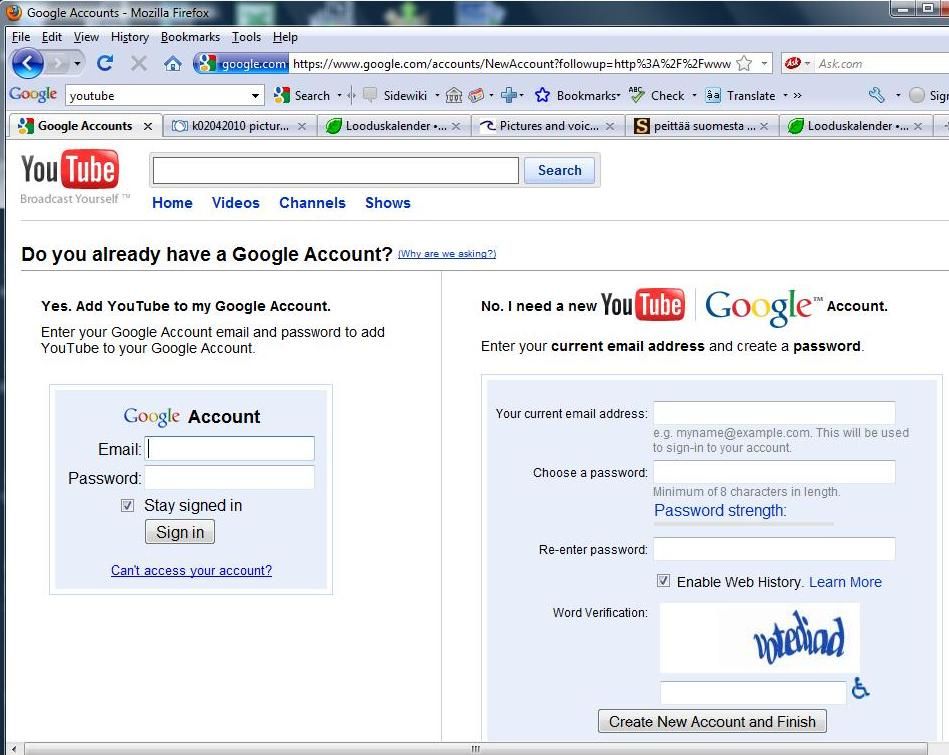 in the next winDow you'll have to fill in your personal Data (in the picture below i've covereD mine with reD blobs). Finish by pressing the "I accept"-button in the bottom line.
in Det nästa fönstret skall Du skriva Dina personliga upgifter (i bilDen näDanför har jag ritat röDa fläckar på mina). sluta meD at pressa på Den "I accept"-knappen på sista raDen.
täytä henkilötietosi seuraavan ikkunan lomakkeeseen (olen piettänyt omani punaisilla pallukoilla). paina lopuksi "I accept"-nappia alimmalla rivillä.