the video begins to upload into Youtube and you'll see the next window.
video alkaa latautua Youtuubiin ja näet seuraavan ikkunan.
videon börjar uppladdas in i Youtube och du ska se följande fönster.
Видео начинается с загрузки в Youtube и вы увидите следующее окно.
uploading takes some time and after it's done Youtube begins to process the video, which takes some more time. sometimes it seems to happen extremely slowly.....
videon latautuminen kestää jonkin aikaa, ja kun se on valmis, niin kestää vielä jonkin aikaa, kun Youtube prosessoi videota. välillä touhu on tuskastuttavankin hidasta....

uppladdningen tar tid, och eftersom detta har skett börjar Youtube processera videon, som tar ännu mera tid. ibland känns det att det tar en evighet...
загрузки занимает некоторое время. После это делается Youtube начинается для обработки видео. Это занимает некоторое дополнительное время. Иногда кажется, произойдет крайне медленно…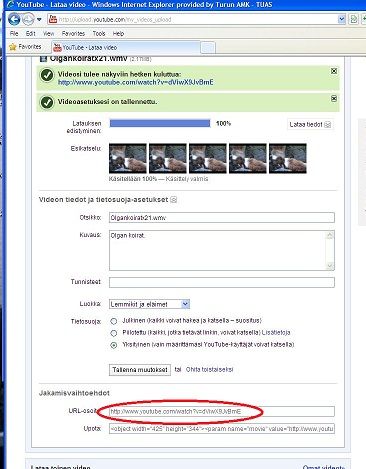 already during the processing you can copy the URL-address of your video from the lower line by pressing it with the left mouse button and then pressing CTRL-c. the same address will appear on the upper line, when the video is ready to be watched. if you press the upper address with the left mouse button the video will begin to be played. if you want to copy the address from the upper line press it with the right mouse button and then CTRL-c.
jo prosessoinnin ollessa kesken voit kopioida videosi URL-osoitteen alariviltä painamalla riviä hiiren vasemmalla nappulalla ja painamalla sitten CTRL-c. sama osoite tulee näkyviin yläriville, kun video on valmis katsottavaksi. jos painat ylärivin osoitetta hiiren vasemmalla napilla, video lähtee pyörimään. jos haluat kopioida osoitteen yläriviltä, paina ylärivin osoitetta ensin hiiren oikealla napilla ja sitten Ctrl-c.

redan under processionen kan du kopiera din videos URL-address från den raden som du ser i ändan av sidan. pressa raden med musens högra knapp och sen CTRL-c. samma address ska utkomma på overdelen av sidan när processionen är färdig. om du då pressar på övre addressen med musens vänstra knapp så börjar videon spelas. du kan kopiera addressen från den övre raden med att pressa på raden med musens högra knapp och sen press CTRL-c.
Уже во время обработки Вы можете скопировать URL-адрес видео с нижней строке и нажмите на нее левой кнопкой мыши и нажав Ctrl-C. тот же адрес появится в верхней строке, когда видео готово к наблюдали. Если вы нажмете верхней адрес с левой кнопкой мыши, видео начнет играть. Если вы хотите, чтобы скопировать адрес из верхней строке нажмите на него правой кнопкой мыши, а затем Ctrl-C.
after copying the address you can paste it in the board message you are composing. (instructions about how to do it you can find here:
viewtopic.php?p=48621#p48621
)
kopioituasi videosi osoitteen voit lisätä sen laatimaasi LK-viestiin (ohjeet siihen löytyvät täältä: viewtopic.php?p=48621#p48621
eftersom du har kopierat addressen du kan bilägga den i den forum- meddelande du håller på att skriva (anvisningar om hur det ska göras hittar du här: viewtopic.php?p=48621#p48621)
после копирования адреса вы можете вставить его в доске объявлений вы пишете. (Инструкции о том, как сделать это вы можете найти здесь: viewtopic.php?p=48621#p48621)