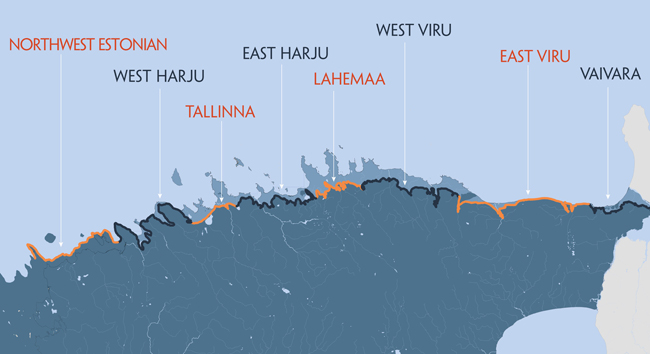 For each country and nation there exists some landscape that associates with this very country or nation more clearly than anything else. Finland is known by its granite and countless lake-eyes and Norway by its fjords fading into bluish mist, Denmark by the white chalk cliffs of Møns and Stevns and Latvia by Curonian sandy beaches. This list could be extended as far as our knowledge of our closer and farther neighbours suffices.
But by what landscape do we know Estonia? A picture of Estonia should certainly contain a lot of forest (over 50% of the territory) and mires (about 20% of the territory), but also croplands, hayfields and pastures (about 30% of the territory). Yet most of all it should contain coast, as 4000 km of this small country (45 125 km2) is the domain of coasts.
In 1999, an Estonian nature magazine Loodus ("Nature") organized a questionnaire to identify the 33 most popular nature monuments in Estonia. The North Estonian cliff coast or the North Estonian Klint became the unrivalled winner, being placed first by nearly 80% of the respondents, followed by the Taevaskojad ("Sky Halls") – riverbank escarpments of Devonian sandstone – and the meteorite crater of Kaali.
The North Estonian Klint is not all of Estonia yet, as there are also other remarkable and admirable areas in Estonia: the islands of Saaremaa and Muhumaa have got the Silurian Klint; river valleys in Võru, Põlva and Tartu Counties boast with bank escarpments of red Devonian sandstone, the Vooremaa Drumlin Field has got drumlins and the wilderness area of Kõrvemaa – vast bog and forest expanses, while the Võru County, again, is closest to the sky. All have got something to be proud of and surprise the world with, yet in Harju and Viru Counties there is the one nature monument uniting and symbolizing the entire country – the North Estonian Klint.

It is a heart-warming moment when this homey and pleasant streak – the North Estonian Klint – appears on the horizon, be it glowing in rosy dawn light or fading in dusk. When approached, it acquires brighter colours and reveals its countless, initially unnoticed surprising details. This beautiful sight suffices for nearly 300 km, that is, for everywhere between Osmussaar Island and Narva River.   

The UNESCO World Heritage List unites the masterpieces of nature and human culture worldwide. As of the end of 2008, the list included 878 properties (with 679 of them inscribed as cultural heritage, 174 as natural heritage and 25 as mixed properties) in 145 States Parties from 185 States Parties. But there is nothing like the Baltic Klint, which was only included on the Tentative List in 2004. In July 2005, the World Heritage Committee officially approved the World Heritage Marine Programme, whose mission is to safeguard the world's marine and coastal cultural and natural properties. The Baltic Klint would be an excellent candidate for that List. 

This web site should give a wide-ranging overview of the North Estonian Klint as a nature monument symbolizing Estonian national identity, and not only from the geological-geographical point of view but also as a nature monument adding value to human living environment. Rocks and land, forest and the sea, economy and settlement history, people and tradition – the Baltic Klint has left its clear-cut traces on all that in North Estonia.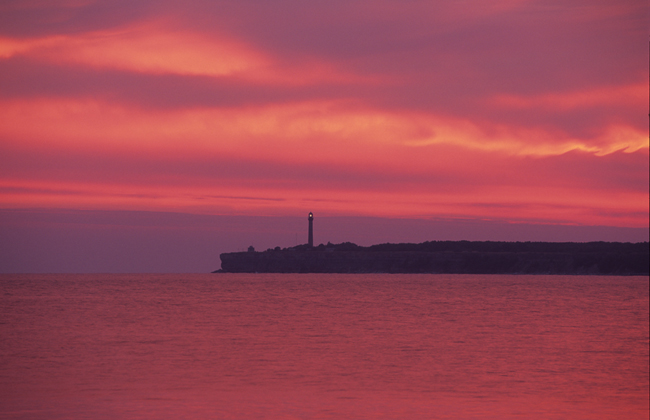 North Estonian Klint as a symbol of Estonian nature.