Body
Urmas Sellis and Ain Nurmla worked as experts should on the ringing of the storklets. The nest tree is not the easiest for this work. But the experience of Urmas with black storks and eagles goes back already for decades. Thanks!
Screencap Solo, LK forum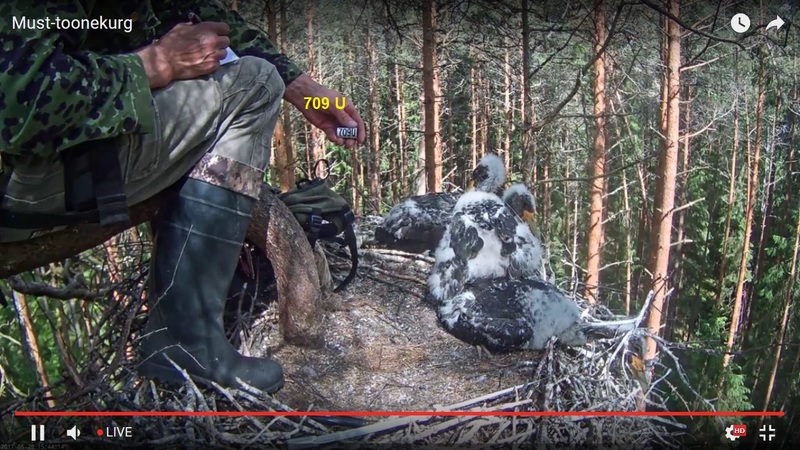 Black stork         Must-toonekurg          Ciconia nigra
So the preparations, the placing of climbing ropes etc, took only half an hour.
Urmas started with the ringing at half past three, and chose as the first bird the storklet that was calmest lying down and turned out to be the biggest one in the clutch.
The code of its plastic ring on the left leg is 709U, on the right leg it has a numbered metal ring but since it was not visible on camera we will leave it for the moment.
The weight of the storklet was 2,33 kilos, wing length 350 mm, beak 100 mm.
For DNA analysis a couple of cover feathers were taken; in due time we will find out about males and females.
The code of the next one to be ringed is 715T
Weight 2,1 kg, wing length 340 mm, beak 95 mm
At 15.54 male stork Karl wanted to come and feed the storklets; there our ringers were caught out by the stork with the transmitter, but more about that below.
The code of the smallest storklet 715U
Weight 2,0 kilos, wing length 315 mm, beak 93 mm
The whole ringing took half an hour. Climbing down and packing about the same.
Male Karl arrived to feed the storklets an hour after the ringers were "caught out". In a moment the storklets had forgotten all that had happened. Black storks are extremely cautious birds but from a human point of view Karl has received the rings on his legs as well as his "backpack" with the transmitter from Urmas. The bird hardly recognizes Urmas personally but the fact that no unpleasant things have occurred near the nest in connection with humans may make him bolder – it is of course only simple conjecture. Sometimes the cautious adults have not appeared at the nest until the next day!
The female came to feed the storklets at 18 o'clock. A nicely successful and eventful day!
At the end of the ringing Urmas also tells the viewers the dimensions of the nest. Video Ame, LK forum.
You will find comments, screencaps and videos from the event on quite a number of pages in the forum : LINK.