Autorid
Text www.maavald.ee
Photo Arne Ader
Translation Liis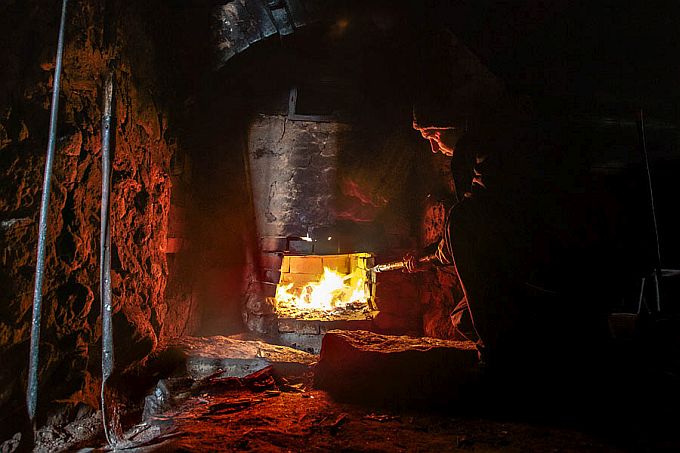 Threshing barn furnace. Smith Mart Salumaa
Body
Many linguists are of the opinion that the Estonian word jõul (roughly Yule) is borrowed from the ancient Scandinavian language around a thousand years ago. But there are those who think that we have to do with our own indigenous word.
From time to time. Christmas starts at the winter solstice  and ends a few days after the new year. "Ajastaeg" is an old Estonian concept meaning year round. It expresses recognition of the world and awareness of the cycle of time and life and more broadly the oneness of world and being.
The old new year thus was on the 25th of the Christmas month. The official New Year has moved to the first of January as a result of an unsuccessful calendar reform. Actually the year begins on the day that is longer than the previous one, thus December 25. So Christmas or jõulud, Yule, begins on December 21, December 24 is New Year's Eve and December 25 is New Year.
That Yule is precisely the change of year holiday is vividly illustrated by the fact that when in the 17th century the official beginning of the year was moved to the 1st of January people started to call it the New Christmas and the equinox period the Old Christmas. January 7 has commonly been called the Old Christmas. The day still carries the name of the Day of the Christmas Mother. Elsewhere the last day of Christmas is the Porridge day, February 2.
Meaning. The Christmas days were holy days when one year, one life was ending and a new beginning.
The sun is in its nest and the days remain equally long. Although the amount of light is smallest then there is a lightness and excitement in the air that promises happiness. Something exceptional is happening – the world, the universe turns towards light, warmth, food and life.
The whole text (in Estonian) is on the Maavald home page: LINK