At the start of the mushroom season
Photo: Arne Ader
Translation: Liis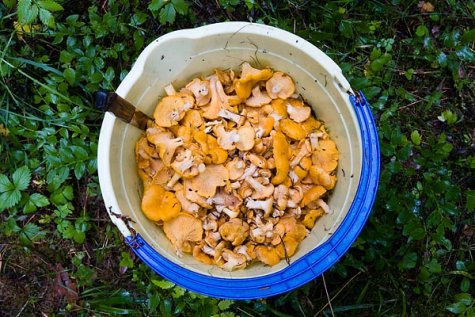 Chanterelles
The mushroom season is here. Chanterelles, cepes, boletuses, parasols, Russulas ...
In recent years a number of interesting mushroom books have been published in Estonia. For mushroom pickers the pocket-size "100 söögiseent - "100 edible mushrooms" by authors Kuulo Kalamees and Vello Liiv is particularly to be recommended, or the more extensive "400 Eesti seent – 400 Estonian fungi" by the same authors.
There are about a dozen mushrooms or so in our forests that on eating can result in death for a human. Anyone who roams about in forests should learn to know these from literature and photos: the death angel or destroying cap (Amanita virosa), the death cap (Amanita phalloides), the lethal webcap (Cortinarius rubellus), the deadly fibercap (Inocybe erubescens), the deadly galerina or autumn skullcap (Galerina marginata) …
We should also keep in mind that there are many mushrooms that can cause poisoning if not correctly prepared, but mushroom poisonings are easy to avoid when you are aware of the risks:
- never collect mushrooms in city parks or at major roads.
- only pick familiar and fresh mushrooms!
Being in the forest is always a splendid adventure.