Reeds flowering in places
Text: Vello Keppart
Photo: Arne Ader
Translation: Liis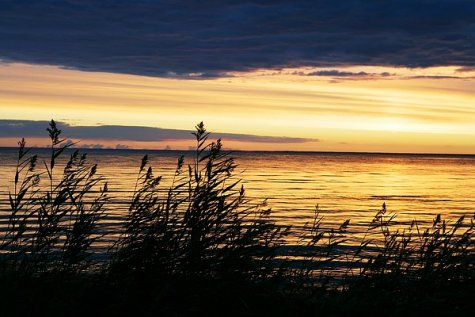 Sunset at sea. Pikla
The reed is the last flowerer among the Graminae (Poaceae) or grasses, generally from July to September, and in most years its seeds don't ripen. In places the reed is in full flower.
The reed is an important plant, the biota of reed banks depend on it, the shore landscape (~20 000 ha), is just now the food table and overnight place of small migrating birds.
Besides its use as a building material the use of reeds as a renewable energy source should offer ever more interest. Reeds are the natural plant community with the highest biomass productivity. The average energy content per hectare of the annual harvest is about 4,0 MWh/year with cutting in spring, and the reed area in Estonia suitable for harvesting is 11 000 ha.