First results from European Birdwatch
Photo: Arne Ader
Translation: Liis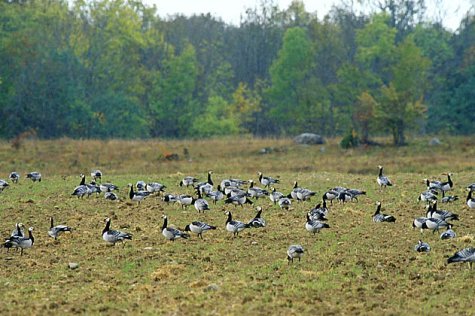 Barnacle geese in field. Matsalu national park
On this weekend, October 1st and 2nd, the every-autumn European bird watching event took place. More than 43 000 people in 37 European and Central Asian countries took part in the event and counted more than 4 million birds during the observation days.
On Sunday afternoon almost 130 observers had forwarded their results to the Estonian Ornithological Society. The observers in the express count counted more than 160 000 individual birds from 122 species. Barnacle geese were seen in greatest numbers during the weekend (110 500 individuals); they were also the dominating species by far in our neighbour countries Finland and Sweden. Starlings (7 250 individuals) and herring gulls (5 450 individuals) were also among the most numerous species in Estonia.
The species occurring most frequently in the lists were great tit, hooded crow, blackbird and jay. A yellow-browed warbler in Saaremaa and the red-breasted goose in Raplamaa were the most exciting observations of the weekend.
The final results of the European birdwatch will be compiled in mid-October when the Estonian Ornithological Society has received all the observation data.
More information:
53 932 684
Tarvo Valker, EOÜ council member