Last night on Forest Camera
Web camera image: Alice, LK forum
Video: Kitty, LK forum
Translation: Liis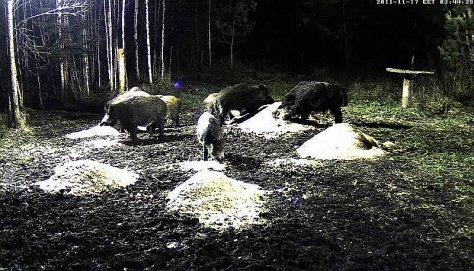 The individual to the right, with stronger shoulders and a tuft under the belly is a male.
The main actors appeared on the ground a little before 3.30 in early morning and all was as if taken from a textbook.
The heat period of sows begins in November. Attracted by the smell a solitary male joins the flock. Simultaneously young males are driven off from the matriarchal herd in order to avoid mating between relatives. Thus the wary male boar moving around and the sows, of varying ages, in the video and photo.
The family planning period is from mid-November to mid-February according to researchers. The peak period for conception is thought to be a few weeks in December just before Christmas. During that period up to a third of the sows in heat are fertilised. We will try to tell about remarkable events in the life of the boars, including visuals, as they come about.
See video:
More can be learnt from the forum posts: