Waxwings in Pelgulinn
Photos: Arne Ader
Nature sound: Veljo Runnel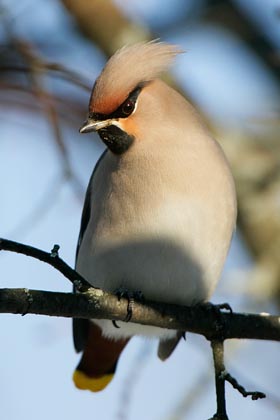 Waxwing
Waxwing; European waxwing

December is migration month for waxwings. A migrant flock of a couple of hundred waxwings has been visiting Pelgulinn in northern Tallinn for the last few days. Quite many rowan, hawthorn and black aronia fruits are still there, left by the thrushes. The flocks now clean out trees and bushes systematically. In the afternoon groups flock gather in the top branches of big poplars to digest the food for an hour or so. In the mornings, with little traffic, the so characteristic ringing sound of the birds in flight can be heard. The image of waxwings in flight with the triangular wings is very similar to that of the starlings.
A look at the exterior of the beautiful tundra birds: the basic colours of the silky, gleaming plumage are silk grey and reddish brown. A black streak at the eyes and a similarly-coloured patch at the throat. A splendid crest on the head crowns it all. A strong beak, with a slightly curved tip. The wing feathers black, with yellow and white patches. The tips of the primaries are yellow as is the tip of the tail.
Differences between young and adult birds: the young lack the black throat patch and the silky sheen is duller. Seen by binoculars the difference is noticeable.
Eating habits are voracious. A group empties a rowan or hawthorn tree in a short while, leaving the ground under the trees covered with berry mash, but that is in turn tidied away within a few days by smaller winter birds with weaker beaks.
Waxwings in maple top
Kairo tells us from Simuna in north-eastern Estonia:
In the beautiful weather today many birds move about and heard too. Tits look for insects in the trees and other species are busy with their doings. It seems that there are many tits this year.