Forest tits
Photo: Arne Ader
Translation: Liis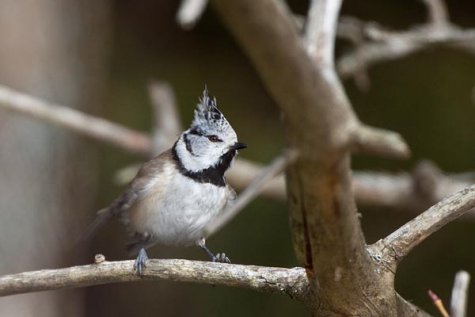 Crested tit
Crested tit

Very rarely, we meet crested tits at bird feeders; it is more likely if there is a conifer forest near our bird feeder, especially a pine forest. Crested tits are very stationary and can spend their whole life in only one small forest part; the young birds undertake minor journeys before winter. During winter they move in small groups; bird feeder visitors are generally no more than a couple of birds.
Their number is actually not so small, it fluctuates around a quarter of a million wintering birds. Crested tits very seldom stray to the islands.
Adult crested tits have the black-white patterned head crest, no other tit has this embellishment; moreover, the little bird moves its crest according to its mood. Exceptionally for small birds, the eyes of the crested tit are reddish. A quiet, fine chirping heard in a pine forest may belong to crested tits. The birds have collected stores for winter into bark crevices, that is probably where they are busy.