Lesser spotted eagle webcams in Estonia
Translation: Liis
Eha and Koit's nest
Black stork nest where lesser spotted eagles moved in
We solemnly open the 2014 season of lesser spotted eagle nest webcams. This year we once again can follow events in two spotted eagle nests in Jõgevamaa.
The nest webcam of Eha and Koit, so named by the Looduskalender forum, shows the seventh consecutive nesting season already. The other, the oldest nest webcam in Estonia, is installed at a black stork nest. Since 2010, lesser spotted eagles have used the free nest space.
Previous years have offered nature friends from all over the world magic moments with the spotted eagles – calm everyday life but also passion and drama. We hope that this year will be good for the lesser spotted eagles. The wait for the main actors should not be long: on April 3rd the first lesser spotted eagle was already seen in Tartumaa.
You are very welcome to watch the nest cameras and take part in the Looduskalender forums! In the
forum
you can also see the events of earlier years.
A family photo from last year
Contributing to the venture:
• Implementation and supplementary information Kotkaklubi (Eagle Club)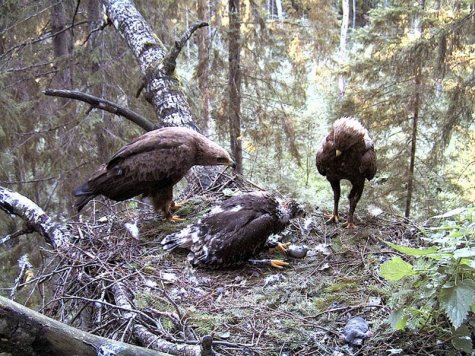 Tuuli, Remo and Tormi two years ago. Images from previous years captured by Felis Silvestris, LK forum
Logos of our partners and supporters: