Jubilee for Looduskalender
Text Kristel Vilbaste
Photos Arne Ader
Translation Liis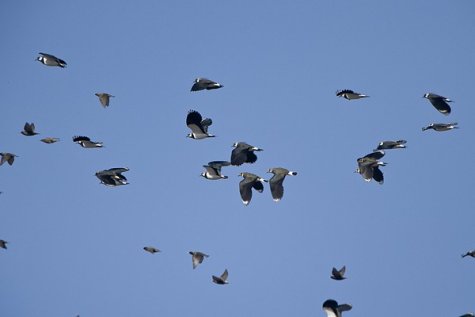 Lapwings
An incredible wave of warmth swept into Estonia. In a week snowdrops all over the country poked green noses out of the ground, the sun painted the noses white in a single breath, and the snowdrops were tinkling about spring everywhere. Even the green crow's-feet of ground elder are already a centimetre and a half long.
There is snow only in the hillier parts of Estonia now. From elsewhere it has gone as if by magic and the showers of rain already thaw even ice fields.
Although reports of the arrival of skylarks come from sundry places, here at Raadi where we usually have a paradise for skylarks as well as lapwings – there are none, neither flying nor singing.
The bubbling from the black grouse displays doesn't go silent in bogs even for a moment. Owls call, vying with each other, and the woodpecker drum rattles loudly. The first yellow-beaked whooper swans call happily as if telling, Soon we are going to our tundra homes. And Looduskalender's creator Gennadi Skromnov says that in the eagle camera the cackling of geese flying past can be heard.
I would like to write precisely about Looduskalender this time. Do all of you actually know what Looduskalender is? Of course you do, it is the pride and joy of Estonians. And as our eagle man Urmas Sellis says, coolest of all are the eagle cameras of Looduskalender.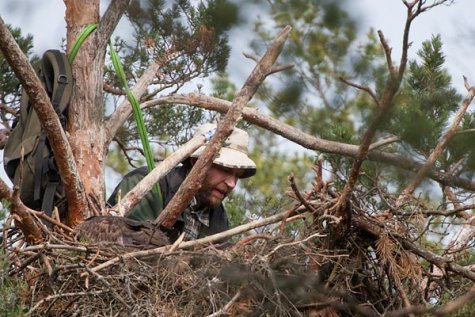 Eagle man Urmas Sellis ringing white-tailed eagle chick


In summer the family life of ospreys are at times observed by 50 000 people at once. And the most surprising fact - Estonian camera viewers are only in sixth place, after viewers from Taiwan.
Yes, on February 28th Looduskalender is 10 years old. But this time I will tell a quite old story, one from 30 years ago.
At that time i was a student at the University of Tartu, and our group of friends rushed into the open nature whenever we had a free moment – to the Laeva bog. One of our group – Einar Tammur – worked at the Estonian Forest Research Institute (Metsainstituut) and he had to ensure the wellbeing of the rarities, white-tailed eagles. To this end he started to renovate eagle nests and we went out together, building them and looking for them.
But in 1985, I might be wrong by a year, it was also decided to start feeding eagles in winter. For this a pig cadaver was brought to a place where eagles moved, or fish from fishermen were spread out. But one dark winter month Einar had the idea of building a platform for feeding eagles. Right on the brink of Emajõgi, at Palupõhja, in the top of a large willow. In the heart of the present Alam-Pedja protection area. We were six, and worse heavy struggling throughout the day I cannot even remember; the boys sawed off the top of the willow and cut it up, we, the girls, three of us, had to drag away the branches so that the eagles would not suspect that people had been busy here. But we put up a splendid plank platform for food for the eagles – simply a larger model of one for tits, although without a roof. But instead of sunflower seeds this had giant perch from the local fisherman as bird food, beautifully striped and really large – I have never seen the like anywhere in Estonia. Of course we also posed on the platform, pretending that we were the eagles and were gobbling these perches. And joked about how if an eagle comes now and grabs us ...
The feeding platform for eagles is just like this in my memory. Neither there nor in photos I ever saw eagles feeding there. All that came some 10 years later when the eagle men started to build hideaways at the edges of the feeding places. I too marched away in early night to the observation hut to watch the majestic birds while holding my breath. Freezing … and at the same time very proud that I was one of the perhaps some twenty people in Estonia who at that time had seen such a sight.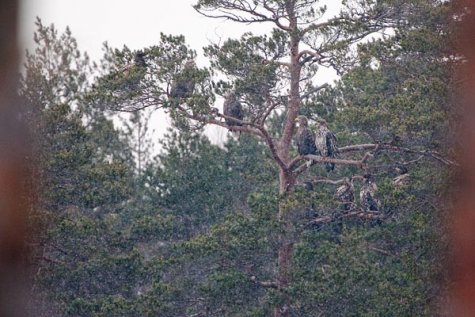 Morning line-up: 9 white-tailed eagles in the pine crown
At that time we couldn't even dream of this once becoming an everyday favourite occupation of thousands of people. Looking In the morning in the computer how many eagles had come to the feeding ground that day, and when the administrator zoomed in on the yellow legs of the eagles, to read the coloured rings and find out the origins of an eagle. Or see how a valiant little crow nipped a giant white-tailed eagle by its tail to lure the eagle granddad away from the tastiest morsels. Or how a pricked-eared fox comes skipping and grabs the tastiest fish from the heap, straight under the beak of the eagle: slightly shocked, eyes aflame from hunger.
Yes, it is all now in front of our eyes, every day and as natural as if we were watching an animal film on TV. We watch it as an everyday piece of Estonian life. And not even I who have been at Looduskalender's sidelines all these 10 years know all who keep it all going. One of our that-time group, Urmas Sellis, for sure is the contact person of the eagles, and my student companion Urmas Lett from Eenet has been the translator of white-tailed eagle language into electronics talk. But certainly the engine of all this in all the years has been Gennadi Skromnov, Looduscalender's creator and manager, talking of the necessity of Looduskalender with eyes aflame. The team however is very large.
I myself am happy that Gennadi 9 years ago dragged me along to Lea Larin, biologist and chief editor of Eesti Päevaleht, and that Lea invited Looduskalender into our largest newspaper. For 7 years I wrote Looduskalender stories each week for Päevaleht, with Arne Ader's photos.
This period brought me new friends from all over Estonia from among splendid nature enthusiasts, and offered opportunities each week to call people. During the last few years I have continued along the same path with the KUKU Ilmavärav (Weather Portal) stories twice a month that after being on the air get published in Looduskalender.
But all of Looduskalender is full of exciting discoveries:
LINK
Take some time and see what 10-year-old Looduskalender.ee offers!