Registered user
Posts: 825
Joined: May 17th, 2012, 1:53 pm
Location: France - 46 -
Contact:
This year, Tiina on the branch
---
Moderator
Posts: 55222
Joined: April 7th, 2009, 10:26 pm
Location: Turku, Finland
Contact:
Michi
has found some interesting Pontu pictures taken on April 1st:
http://193.40.124.24/2014-kurg-ftp/2014 ... -11-45.jpg
http://193.40.124.24/2014-kurg-ftp/2014 ... -11-58.jpg
http://193.40.124.24/2014-kurg-ftp/2014 ... -12-01.jpg
http://193.40.124.24/2014-kurg-ftp/2014 ... -12-02.jpg
http://193.40.124.24/2014-kurg-ftp/2014 ... -11-55.jpg
i don't quite know what to think of these pictures.

the area around the eye looks narrow in the first four pictures but in the fifth picture it is much wider.
in fact at first glance the pictures seem to be taken of quite different birds but it was the same Tiina all the time!
i made cropped versions of the 11:45-, 11:55- and 11:58 pictures. the sizes are equal and i haven't done any other manipulation on these pictures.
11:45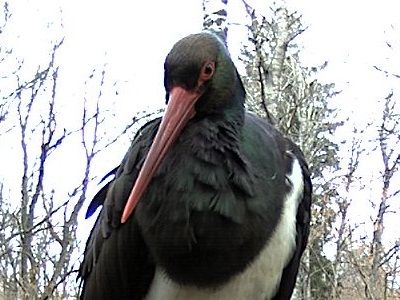 11:55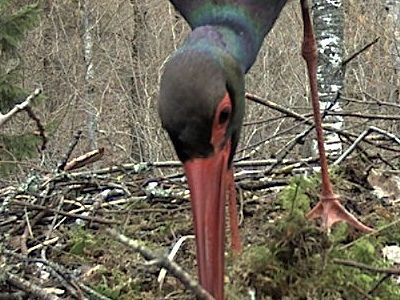 11:58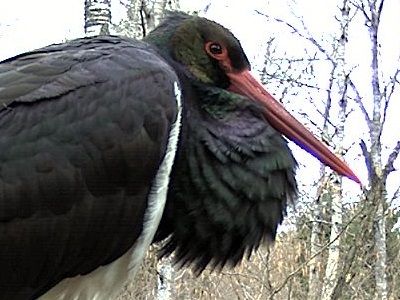 the first two pictures, taken 10 minutes apart, show Tiina's left eye which seems very different at different times. the second and third picture were taken only 3 min apart and they seem to show that Tiina's left and right eyes are quite different. that would mean that her face is quite unsymmetrical! or does her appearance change maybe by fluffing or flattening the feathers around the eye? normally birds don't have facial expressions as we humans produce and see them, but this would indicate that changing the position or posture of head-feathers would change the look of the bird completely. if the look really is so changeable in one individual stork then what does it mean for identifying two storks from each other even if one sees them at the same time on the nest, not mention two individuals over a year?

Michi wrote to me:
I have such pics with complete different eye-area from Tiina from March and April 2014, where the normally big red featherless area is missing. One can't believe that it's the same bird, but it is.
If you want to, I'll send you the pictures; they all have the time-stamp. But I've now quickly looked at Pontu; there are many pictures from Tiina without the big red area.
i myself became worried about knowing who is who among birds of which no-one has rings...

---
Registered user
Posts: 203
Joined: May 18th, 2009, 6:22 pm
Location: Latvia, Riga
Dear ame
Tiina's both eyes are identical , but the red area may be more or less distend. Like the human eye can be widely inflated or squints
In the Dabasdati forum my name is Vērotāja
---