INTRODUCTION
Observations of white-tailed sea-eagles (shortened hereafter as WTE) visiting the winter feeding ground during the season 2012-2013 will be summarized under this topic. Special attention will be paid on observations of eagles carrying rings, because the special zoomable camera used at the feeding ground allows viewers to read ring codes and to take snapshots of them.
WTEs have been ringed (or banded) with two rings both bearing two coloured stripes. The colour codes are given in the picture below (by 0Hansen).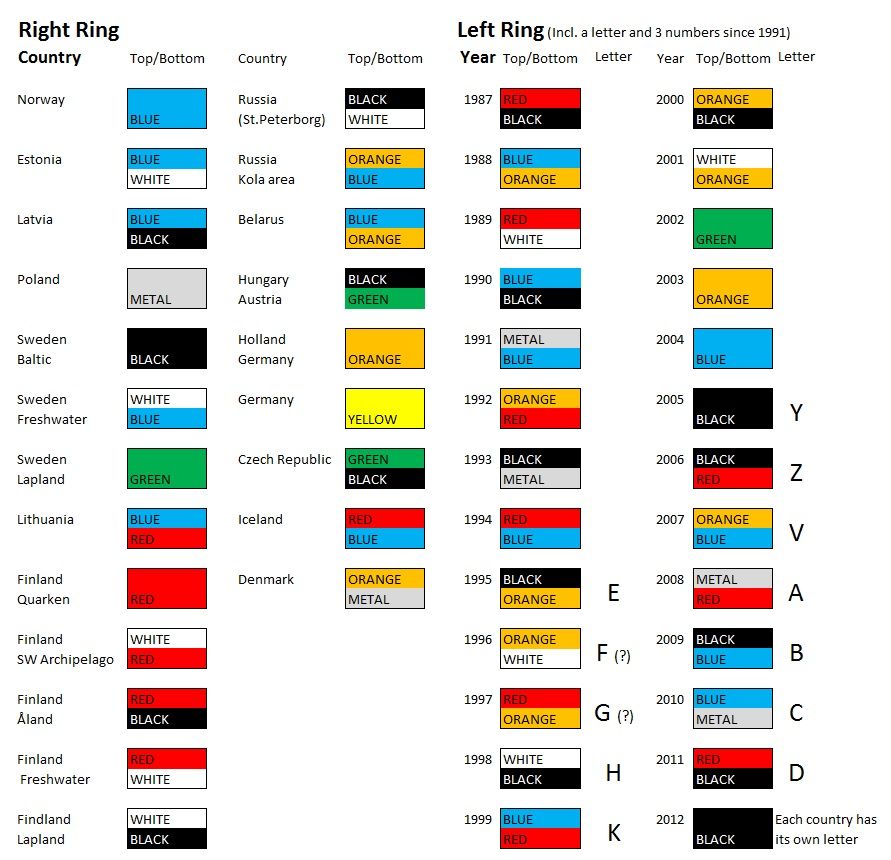 Chart updated on Feb 24 2014.
The colours on the ring on the right ankle (or tarsus) show the country where the eagle was ringed.
Some countries are geographically so large that they have been divided in several regions with their own colour codes. Hungary and Austria on the other hand have a common colour code. The country codes are on the left side of the above picture.
The colours on the ring on the left tarsus give the year of ringing
, which is most often the year of birth of the bird. This practice was started in 1976.
An individual code is also marked on the left ring
starting from 1991: on the top stripe a combination of a capital letter and a number, and on the lower a two-number code. The year codes are on the right side of the above picture.
The letter in the individual code is the same for all ringed birds in one year till 2011.
The oldest eagle observed here last season was Y445 who was ringed in 2005 in Estonia. The second oldest was Z848 from Finnish Lapland, ringed in 2006. Letter V stands for year 2007. For 2008 the letter is A, for year 2009 the letter is B, for year 2010 the letter is C, for year 2011 the letter is D.
Starting from year 2012
the colour coding has altered. All the year rings on the left ankle are black and the letter shows the region of birth according to the picture below (by Bubo). After the letter there is a number and below these two other numbers which together form the individual code for each bird. The colours on the ring on the right tarsus also show the origin of the bird as before.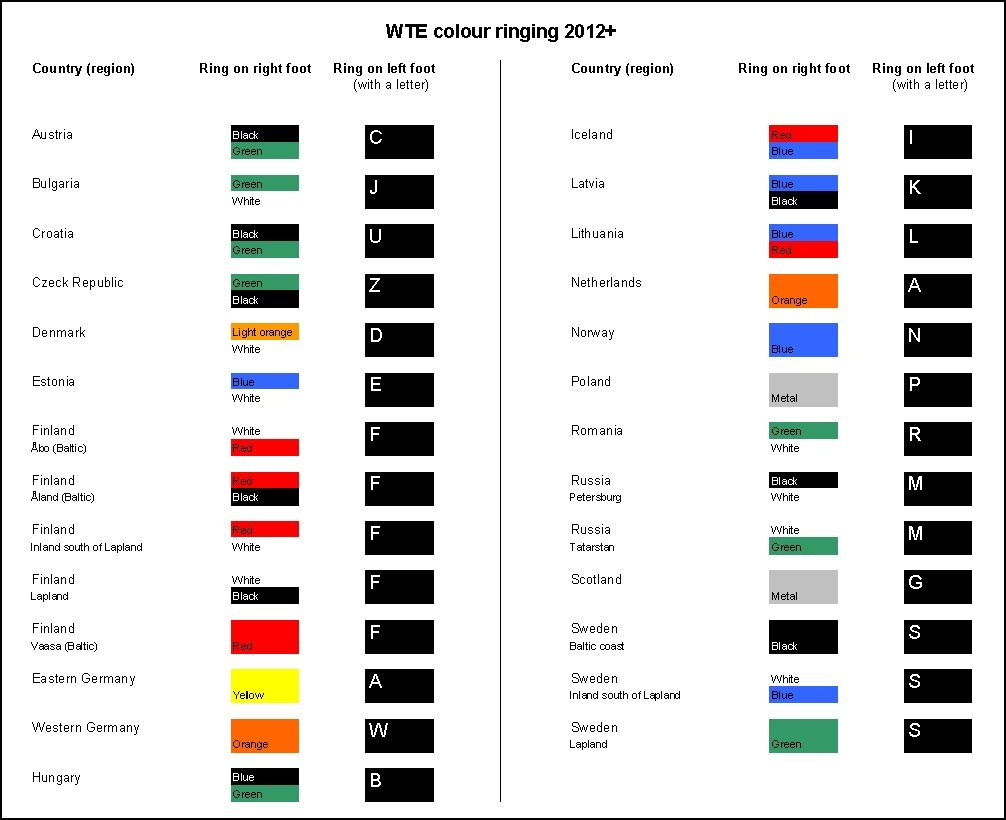 Below is an example of an eagle which wears a white-over-red ring on the right tarsus: it was ringed in South-West Finland. On the left tarsus there's ring with black upper part and blue lower part: it was ringed in 2009. The individual code on the left ankle is the eagle's "name", B279 which allows authorized reseachers identify its home nest and other information on the eagle.

Observations will occasionally (and hopefully) be commented by our eagle experts Urmas Sellis and Renno Nellis. Also other interesting observations of other animals, birds as well as mammals will be reviewed here on daily basis.