This topic is for documentation of what we see on the nest only
1) Something that you saw yourself on the cam
2) Include the date and time
3) Posts here are meant for a quick review of events.

Comments and discussion should be posted HERE: viewtopic.php?f=56&t=662

This is the third year this nest has been online.
This osprey nest is located in Võrumaa in southern Estonia.
The nest is about 2 km from a fish farm and a lake is also nearby - both are good fishing grounds for osprey.
We call the male Madis; he was ringed in Finland, Lappeenranta region, Kymi, on 7 July 2007. We do not have Madis' ring number, and it has not been possible to read it on this webcam.
He probably started to nest in 2011 (the nest was then about 200-300 m away, it fell down during the winter), but there are no ring readings from 2011. The two chicks were not ringed in 2011.
In
2012
, an artificial nest was prepared and a webcam installed. Madis and Piret raised three young. The three chicks were ringed: S8 (Uno), S9 (Elo), and S7 (Nori); we do not expect to see them back in this area until they are 3 years old.
Piret was trapped and ringed (
S0
) and fitted with a transmitter on 4 August 2012. You can read more about the 2012 season
HERE
.
In
2013
, before Piret returned from migration, Madis had already accepted a new mate. That female, Oxana, laid one egg, but was then chased off the nest by Piret and the egg was not incubated. Madis and Piret were seen together during the summer. You can read more about the nest and the 2013 season
HERE
What will 2014 bring?
Madis (left) and Piret on the nest, with three chicks, June 21, 2012
Madis and Oxana 2013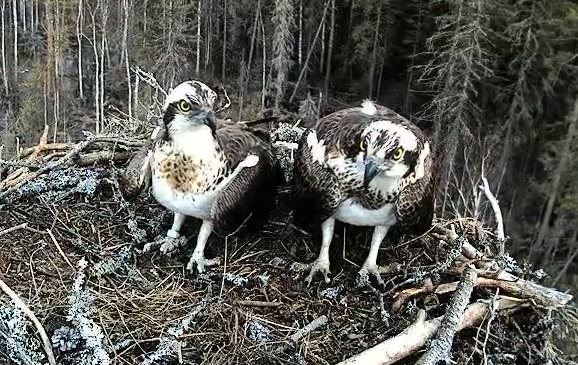 Oxana dive-bombing Piret
Links to the webcam for this nest:
http://pontu.eenet.ee/player/kalakotkas.html
rtsp://193.40.133.138:80/live/kalakotkas
http://193.40.133.138/live/kalakotkas/playlist.m3u8
(for iPad)
rtsp://193.40.133.138/live/kalakotkas (for Android)
(Sample) Link to Pontu archives:
http://193.40.124.24/2014-kalakotkas-ft ... -10-15.jpg
Change the date (in two places) and the time (in 24-hour style) to see the archived picture for a particular day and time - there is one picture per minute.
<<<<<<<<<<<>>>>>>>>>>>>>>>>>>>

We ask members to post no more than three pictures plus one video per posting, and pictures should not be larger than 800 x 600 pixels.

Too many or too big pictures/videos will be edited by admins/mods and non-documenting posts moved to discussions topic.