We are looking forward to the sixth season observing this nest and its inhabitants!
Introduction on LK main page in English:
http://www.looduskalender.ee/n/en/node/1230
The resident couple in 2016 were
Mai
(ringed, 29, on left ankle, metal ring on right ankle) and
Mati
(metal ring right ankle).
Three eggs were laid, after second chick had hatched, one of the two chicks vanished overnight, reason unknown.
Third chick hatched, so two chicks were raised on the nest.
They were named
Neeme
(CN) and
Paavo
(CP), with DNA result it turned out that both were male.
Mai (29) and Mati in 2016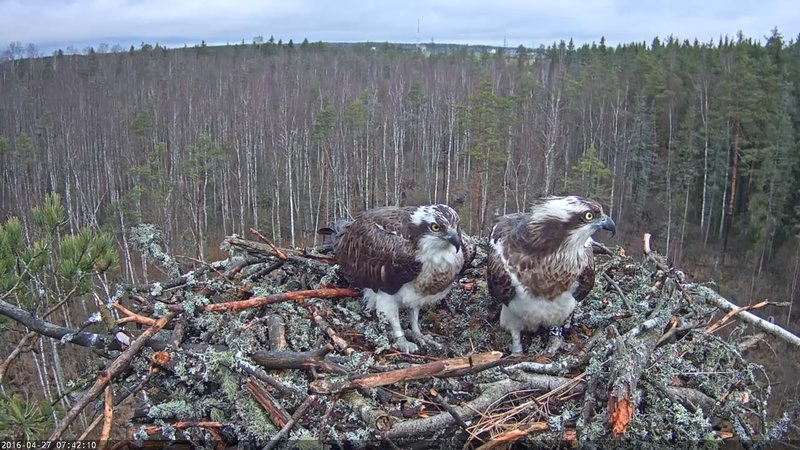 Nest is located in South Estonia, Võrumaa.
A military base is close, so it is not unusal to hear motor sounds from trucks and other vehicles, sometimes even shots.
A fish farm, as well as a river, is not far, so good hunting conditions for Ospreys.
Ospreys reach body heights of 50-66 cm, and wingspans of 1,27 - 1,74 m. Females are bigger than males.
- Winglength ♂ 448 bis 495 mm ♀ 470 bis 518 mm
- Weight ♂ 1,12 bis 1,74 kg ♀ 1,21 bis 2,05 kg
Usually two or three eggs are laid and incubated 36-41 days.
Young Ospreys fledge after 50-54 days.
- - -
Introduction and summary 2012:
viewtopic.php?p=135899#p135899
Introduction and summary 2013:
viewtopic.php?p=209670#p209670
Introduction and summary 2014:
viewtopic.php?p=303570#p303570
Introduction and summary 2015:
viewtopic.php?p=365865#p365865
Introduction and summary 2016:
viewtopic.php?p=446787#p446787
- - - - -
Camera links
JW Player:
http://pontu.eenet.ee/player/kalakotkas.html
and/or
http://tv.eenet.ee/kalakotkas.html
(Android)
Android, VLC:
rtmp://193.40.133.138/live/kalakotkas or rtsp://193.40.133.138/live/kalakotkas
Mac, iPhone and iPad:
http://tv.eenet.ee/hls/kalakotkas.m3u8
- - - - -
Pontu picture/video archives:
http://193.40.124.24/2017-kalakotkas/
- - - - -
Picture viewing tool by
debianuser
:
https://pontu.ca
- - - - -
We ask members to post no more than three pictures plus one video per posting,
and pictures should not be larger than 800 x 600 pixels.
Too many or too big pictures/videos will be edited by admins/mods.
Please note - this season there will be no split topics for documentation and discussions