i guess that there are many programs for
conversion of video format to another
.
i shall now describe how to download, install and use basic functions of one such program: Any Video Converter (AVC for short). it can be downloaded as freeware from their website. just look for the keywords "any video converter" and you will find it.
the format conversion has become necessary since we got to know where to find the Pontu video archive where all the video files recorded from the various live cameras are stored. these Pontu videos are saved in the so-called Matroshka-format with
.mkv
extension. an inconvenient coincidence is that the VLC-player (which many of us use) cannot
write (= record)
mkv-format though it can do it with almost any other video format. this means that shorter video clips cannot be recorded (=written) with the VLC-player although VLC can play (=read) mkv. snapshots can be taken with the VLC. the Pontu videos are very long and large files so we need some tools to make shorter video clips from them.
on their webpage click "DOWNLOAD" and select the folder where you wish to download the AVC. after downloading is finished go to that folder and start the
avc-free
application. it will ask you several questions. to most of them just click 'yes' or next. there are two exceptions and the first is shown in this picture. i think it might be wise not to join here so uncheck the lower box.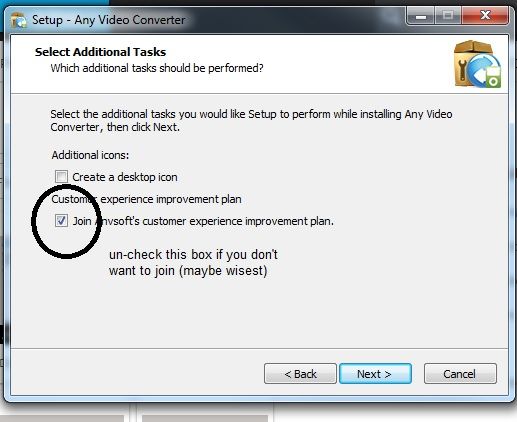 the second offers to download some extra stuff and i think it is best to deny this, too.