Sisu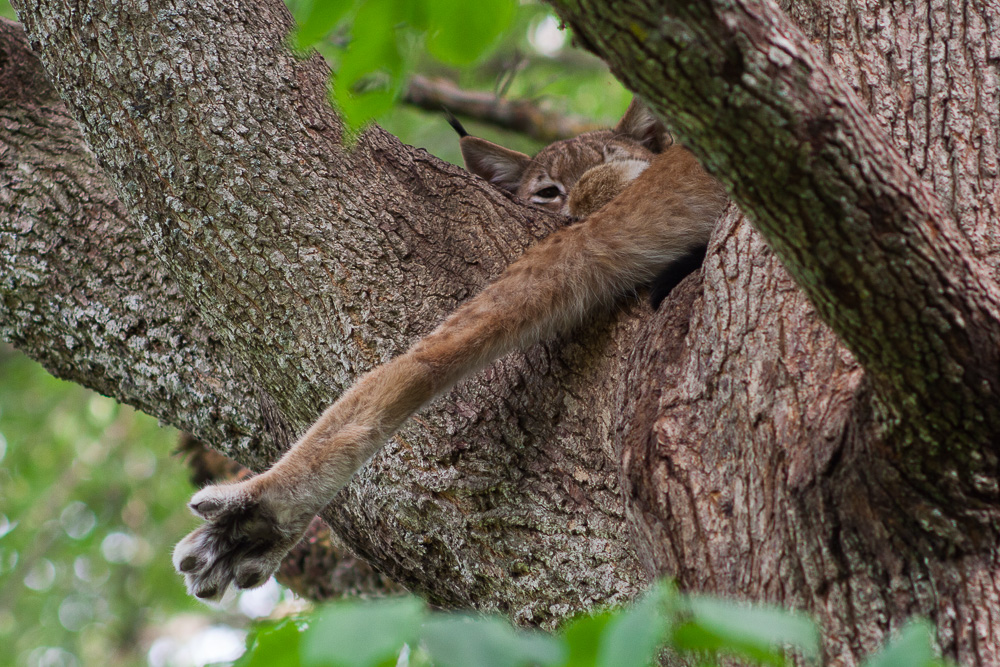 Elistvere lynx. There are still no photos of the three lynx kittens, two months old, in the Elistvere Animal Park. But since the kittens by now are big enough to move around more in the fold we will surely soon be able to show some delightful images. 
Photo: Tarmo Mikussaar
Estonian text posted by the Animal of the Year Team 01.08.2018
English translation Liis 
A few days ago a message arrived from an observant watcher in England of the Looduskalender web camera saying that in the lynx camera a kitten was visible. And truly, a call to Elistvere confirmed that female lynx Gella has kittens. The Elistvere lynxes have not had progeny for a long time and so it made all especially happy that Gella got kittens precisely in the year of the lynx.

"Since the watchers of the lynx camera have really seen that in our lynx fold little ones are moving around we dare say officially too that our Gella has taken the title of Animal of the Year very seriously and brought out three kittens," Elle Mäerand, communication manager  at the information centre, comments. "Of course we always hoped – but so it was last spring too when Gella did not sit in her usual place". Until the very last moment however , the people in Elistvery were not quite sure how many kittens Gella had. It is not easy to see them in the hidden crannies and nooks covered with trees and shrubs in the lynx fold. "In the summer the trees leaf and the grass grows and it is more difficult to observe the lynxes. And particularly this year with the early arrival of summer and heat all keep in the cool of the shade."
Certain knowledge about the kittens arrived in the evening of July 5, when the last visitors came from the park and said that they saw a lynx with two little ones in tow. "The next day the caretakers went to look in the centre of the fold where they have  a cave and they did see a small one running into the cave," Elle tells us. "Since the adult lynxes became excited the caretakers did not go to investigate more. Now we know that the kittens are three. And it seems that the playing spirit increases steadily because visitors see them ever more often."
"In nature lynx kittens are 2 to 2,5 months old by now," lynx researcher Raido Kont comments. "At that age they start going out more and moving around near the nest. And the mothers start moving with the kittens. The lynx mothers often move  the kittens to a new den to escape the parasites,  also if there is a better nest site or if they get closer  to a killed prey."
Who however is the father of the kittens? There are two males in the fold: Lars and the Koopailves, Cave Lynx. "We think that it is Lars, but we cannot be certain. During the heat period both male lynxes were moving around more actively", Elle comments.
Helen Arusoo