Autorid
Estonian University of Life Sciences (EMÜ) announces
Translation Liis
Estonian text posted 07.11.2017
Image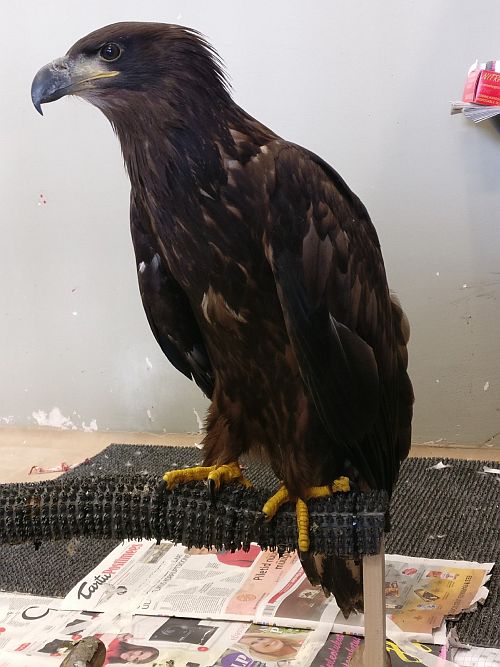 Body
According to Madis Leivits, veterinarian and postgraduate student at the EMÜ the golden eagle found in Pärnumaa is the oldest in Estonia. It was ringed in 1992 so today more than 25 years old.
The golden eagle was found on June 24th and the finders brought it home with them. The next day Madis Leivits took it to the veterinary surgery. "In addition to lead poisoning it had also other health problems such as rotting meat in the sedentary system which needed to be flushed out. The bird also had a great number of broken feathers which needed several months to regrow after the eagle had been cured," Leivits said. He added that the golden eagle will get a new coloured ring with a GPS transmitter by which it will be possible to establish its movements in the territory.
Leivits said that a young white-tailed eagle will be set free at the same occasion. It came to the clinic, also from Pärnumaa, only one month later. "This year a serious problem for birds have been broken feathers. The WTE needed treatment for this. Why it is so we regrettably cannot say but it is possible that it is related to the climate this summer," Leivits said. The white-tailed eagle was in a bad condition, and it had external parasites which however the veterinarians were able to relieve it from.
By today both eagles are trained and in good condition for flying. Both will be set free on November 7th around 13-14 o'clock in Pärnumaa. The precise location is being decided.