Autorid
Image from webcam captured by  Maggy, LK forum
Photo Veljo Runnel, https://runnel.smugmug.com/
Translation Liis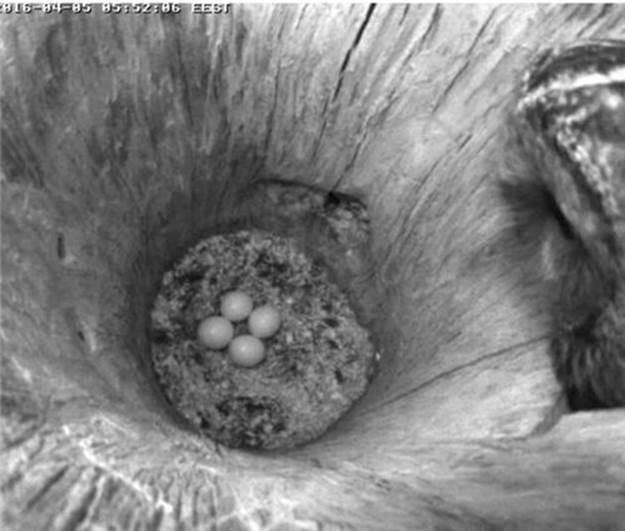 What little black pieces of rubbish are lying around on the nest bottom?
Body
Tawny owl     Kodukakk        Strix aluco
Male Klaus brings Klaara 5-6 little rodents that he has caught during the evening and night. Klaara hears Klaus' arrival from far away and the conversation of the tawny owl pair on passing the prey sounds quite loudly. What would the talk be about translated into human language – here we are all free to imagine ...
What does Klaus treat Klaara with? He hunts voles and bank voles and other small rodents. As the weather gets warmer frogs have started moving towards their spawning areas, the number of migrating passerines increases by each day – these too the owls hunt because during the incubation the female is no hunter and the male has to feed two beaks. Even when the female leaves the nest hollow briefly, it is more for stretching her wings and limbs.
But we were going to talk about the matter lying about on the nest bottom – To start with they are some five centimetres long dark droppings with a diameter of a couple of centimetres.. It is expelled matter that is discharged from the digestive tract by vomiting. The food brought by Klaus contains much indigestible material because owls swallow the entire prey; the pellets consist of mouse hairs, bones, teeth and claws, bird feathers – all that has been swallowed as food but which has not been digested. The female leaves the pellets as nest material on the bottom of the nest hollow.
These little droppings can also be found near the nest hollows of owls. If you have happened to see an owl taking flight sometimes it seems as if something spilled out of the bird's beak? So it did because the pellets are often ejected on taking flight.
In the beginning of next week* we may start waiting for the hatching of the owl chicks. When events have come so far we can talk more about the future.
*Estonian article published 05.04.2016.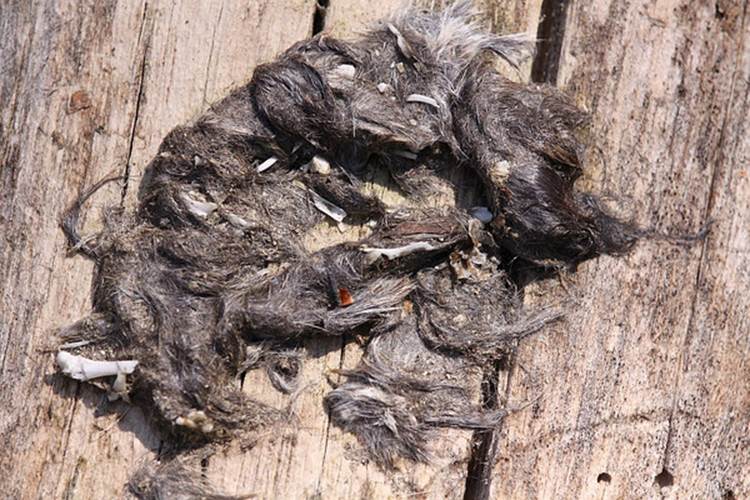 Owl pellet