Body
The year 2017 was a year of expectations. We waited for when winter would arrive, and  summer. When will the strawberries be ripe, and the cranberries. Everything dawdled. Or never arrived.
A decent winter never came. Or as nature-wise Vello Keppart wrote to me: "There was no phenological winter at Jõgeva, because a permanent snow cover of 30 days never occurred and so in a strict sense winter, or so to say true winter never arrived in Jõgeva. There were longer periods with snow during last year from November 2nd – November 19th (17 days) and this year from January 3rd – January 24th (21 days) and January 30th – February 17th (19 days)."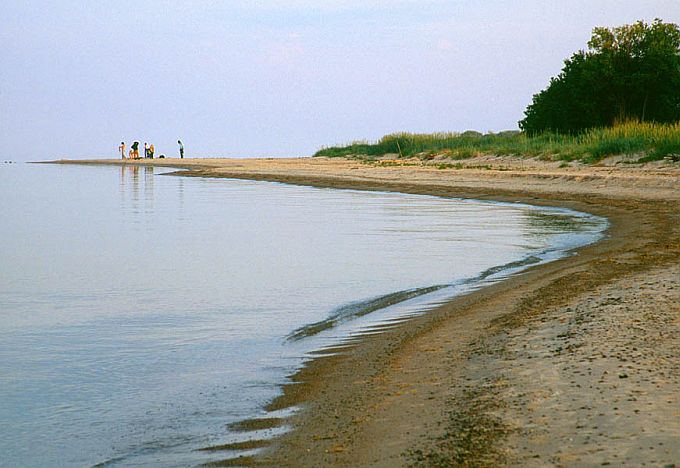 Limo beach in Ruhnu
 But a northerner turns gloomy when it isn't possible to go swimming even once in summer. I myself and many of my Facebook friends only splashed with our feet in water in the summer, we went rather to our little sauna ponds for a  swim. The sea water was as cold as could be. To my misfortune my book "Sea Games" was published this year, from which the bathing and swimming games still are completely untested by readers.
The only thing that did not disappear was the fifth season of Soomaa. The "fifth seasons" were according to Aivar Ruukel and Algis Martsoo at least seven and in the history of the Soomaa only in 1928 water level has been worse.
But let us try to remember a little more precisely what the weather year brought. When writing this story my field diary was in my country home on the desk and the sequence of Facebook posts where mostly everything happening around Tartu gets noted helped me to remember the twisting paths of weather.
January
On the 4th of January I have noted that it was turning cold. "The hens came to the garden. Partridges. Seven.  It was cold outside and some snow and slight snowdrift".
On January 20th much more  snow had not arrived, scallion (Allium fistulosum ) could still be picked.
February
On February 3rd the lawn peers up through the snow.
On February 7th frost arrives, 18 degrees outside. Temperature outside and inside the same,  only the signs differ.
On February 23rd the lawn was green again.-
March
On March 3rd the first lark sings in Tartu and willow catkin open.
On March 10th snowdrops poke up their noses.
March 11th first starling, March 12th a fly, no butterflies yet.
March 23rd, Hepatica flowers in Kütiorg behind our smoke sauna. Hazels already finish flowering.
March 27, birch sap starts flowing, the lungwort enchants with its blue-purple flowers. March 31st, heavy snow comes down, flowers go under a snow cover.
April
April 2nd, the little yellow sun wheels of the colt's-foot warm themselves in the heavenly sun, snow gone again.
April 6th, a pre-St.George's Day rainbow appears in the sky.
On Catkin Day, Urbepäev, April 9th, the willow flowers.
The whole of April a wagtail plays hide-and-seek with me, and I simply cannot see it. On April 12th it is finally on my garden lawn. The next day all paths and puddles are full of wriggling earthworms. The ground is "ready". And by April17th the nettle leaves were already larger than coin bits and could be made into nettle soup for the first time.
But then something happened to the spring in south, everything went on hold. And while nature in the south usually is two weeks in advance compared to northern Estonia then this year it was the other way round.  On April 23rd the chestnut buds are superlarge and resinous in Tallinn, the birch has mouse ears, the elm flowers and blackbirds build nests. In the south it would be a long while until then. In Tartu we found ramsons only on April 28th, in the north the season was long past.
Still, on April 30th windflowers flowered in Võrumaa. Which is the usual date.
May
May 3rd, dandelions flower in Tartu, spring is here.
Lilacs and lilies-of-the-valley get as far only on May 30th. Outdoors it is cold and arid, people light fires in their fireplaces.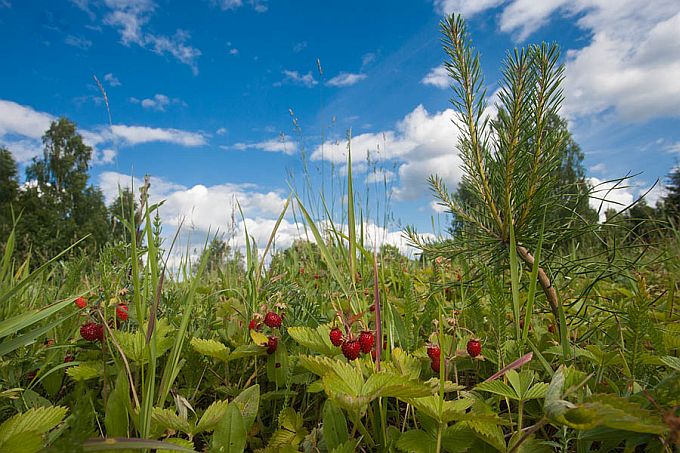 Wild strawberries
 June
The cold and drought continues.The wild strawberries don't ripen until Midsummer Eve, cranberries too flower only then, but together with the lingonberries do so particularly abundantly. There are incredibly few mosquitoes. I don't see any ticks in Võrumaa, one turned up  instead in Tartu.
 July
Before the song festival it started raining and continued raining. It rained so that one performance at the dance festival was cancelled but despite this the children danced the rain dance of the century on the Vabaduse square.
Chanterelles appeared in early July and they could be found until Christmas month. The harvests however were a little smaller than last year.
The raspberry and cloudberry period  started later than usual and ended before it really started. The lime trees flowered self-obliviously but the bees had " hunger swarms".
At the end of July strange mists appeared. 
August
In South Estonia all road verges were  blue with chicory but it was raining and raining and raining. In mid-August wonderful lightning shows thundered into the rains. Summer apples don't ripen..
The wasps that usually torment people for the whole of August appeared only in the last days of August but in such small numbers that it was incredible.
September
The first boletes appear, but there are just no fly agarics, they show up  only in the last days of September.
Birches turn yellow already in the first days of September. An autumn with extraordinarily red and flaming maple leaves. But hazelnuts are not yet suitable for eating even in the second week of September.
In South Estonia there was an incredible amount of lingonberries. The cranberry period arrived, there were more than usual of them but they were rather small.
October
To October 3rd the source of the PärnuRiver at Roosna-Allik went quite dry although it one week earlier it still had bubbled happily. But soon the rain will water all springs so that you cannot even get near them.
On October 20th the first frosts arrived. On October 26th there was the first snow.
November
After St Martins day it turned warmer and spring flowers started flowering again. On November 20th chanterelles and even Russulas could still be picked. Towards the end of November snow started falling.
December
From the Southern hillocks the snow cover no longer disappears, in the north the ground is black. The ground is soft as before and from the giant clear felling areas rivers of mud creep towards the roads. Many ancient village forests disappear that even have been on maps as local names. A new forest war starts.
I also asked our knowledgeable nature-wise people for comments on last year's weather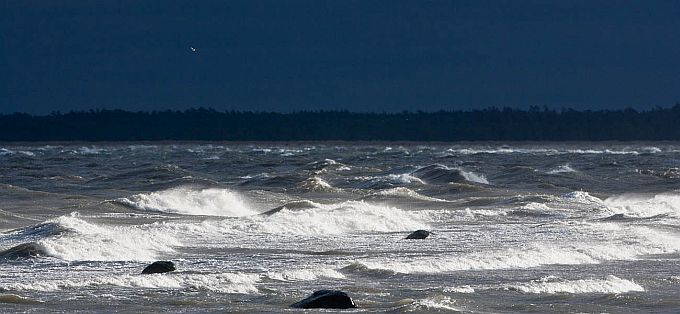 Storm at sea
Looduskalender's creator Gennadi Skromnov says:
"This year there were many rowanberries in the trees,  in the old days it predicted a stormy autumn for people on the coast but the rowanberries these days have not always told the truth any longer. But such a stormy autumn I cannot remember – when in December the storms came from west-northwest, just a day in between, the sea did not even have  time to calm down until the next storm already was panting… The western storm in the beginning of November with winds up to 27 m/s carried thousands of tons of sand away from the Peraküla beach into the sea creating a bank precipice of up to two metres. But this sand that has not settled on the bottom will not stay in the sea – spring will show."
Jõgeva weatherwise couple Laine and Vello Keppart write:
"Oaks flowered in May but the acorn crop failed. In the summer, on August 11, I discovered elms eaten half bare by the  zigzag elm sawfly Aproceros leucopoda  in Udria and Meriküla villages.  A first-time find of this invasive Far-Eastern species in Estonia! The summer and autumn were so cool that everything was late by half a month."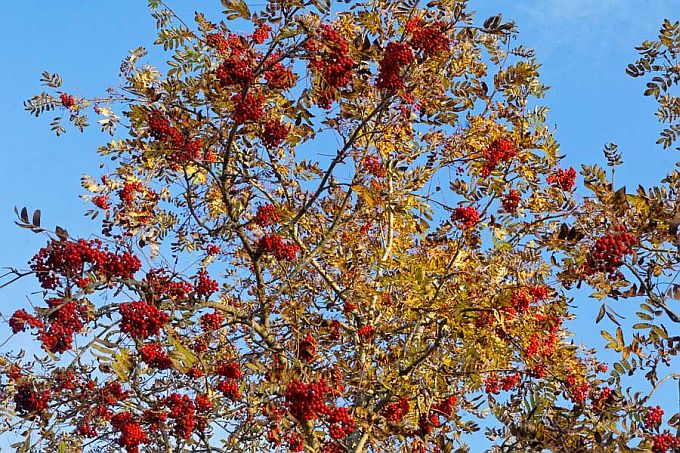 Rowan tree
Folklore wise Marju Kõivupuu tells:
"The swifts arrived here this spring late by a good couple of weeks. When living in Tallinn they have become part of my city bird spring over the years, this year I didn't see them until the end of May. Autumn was bowed down by rowanberries and other red fruits. It is not a common thing to wake up in early light on December 10th because thrushes feasting on the Swedish whitebeam have taken up a springtime song. The fruit flesh was a little fermented too, that too released the singing. Beautiful and romantic to hear anyway."
Herb expert Ain Raal writes:
"It was a curiously drawn-out year, everything tended to be late and some fruits (for instance hawthorn, dog rose, garden raspberry and others) locally did not ripen fully  at all. Our  herbs had to cope with a very short growth period. I was toying with the idea that will they be poorer with regard to composition than otherwise or the opposite,  would they have "pulled  themselves together" and produced bioactive substances more industriously than usual? "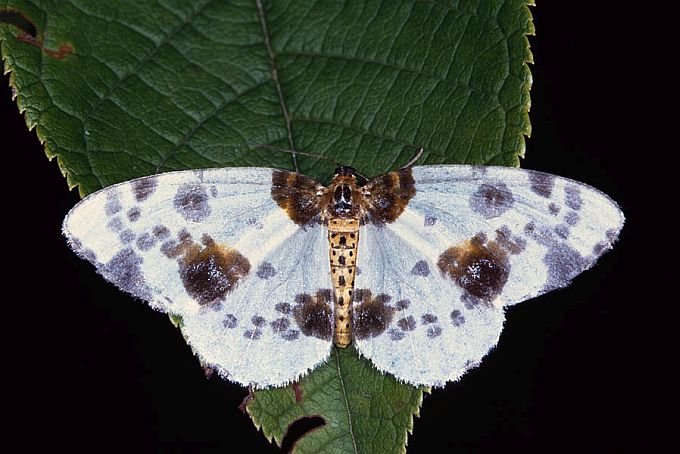 Clouded magpie. Photo Urmas Tartes
Insect man Urmas Tartes says:
If last insect year was phenologically 2-3 weeks ahead then 2017 instead was 2-3 weeks late. The delay started in the spring and lasted uniformly until autumn, and insects were also relatively fewer. While 2016 was a rather modest butterfly year then 2017 was even more modest. However, the abundance of clouded magpies,  chequered skippers  and dark green fritillaries was notable. The information from Saaremaa about the quite extensive appearance of the gypsy moth in Saaremaa also comes to mind.
Folkways researcher Mikk Sarv says:
"The endless waiting through winter and spring – waiting for snow, for the wagtail, warmth. There was much rain, pond levels higher than earlier, warm weather did not come. The waiting went on – strawberries, berries, summer, even mosquitoes and wasps. There were not enough flowers for bees. The year ended wetly, I cannot remember such a watery year as 2017.
Herb specialist Tiina Elvisto writes:
In May the water in lakes and rivers became quite warm for a while, but then the weather turned cold, rainy and windy. There was no more swimming in summer, at least I didn't have any, it was cold. Rain dribbled down in June, in the summer and on top of it, in autumn, for long and often. Much at a time did not come down, there were just fine drops. In September-October the fields began to get under water. It reminded of the autumn of 1978 when Estonia was flooded already in August. Then there was even more water in the ground and on the ground than this year. In summary it may be said that even in the sandy Nõmme area rising above Tallinnn, anno 2017 was a holiday year for watering cans.
Animal keeper Kaja Kübar writes:
In spring you could enjoy the calls of jackals, wolves and owls when outside in the evening. The summer was a good blueberry and cloudberry year. Roe deer feel some support from cattle and their enclosures and basically spend their time mostly with them. There were more snakes in the fields than earlier. The movements of wolves have become more active here, maybe they are disturbed by the activities of the newcomers, the jackals. Great numbers of raccoon dogs with mange visited our home yard and driving around we met them elsewhere too.
Environmentalist Enn Vilbaste says about birds:
In spring the birds were about two weeks late here, the fields here in Pärnumaa were empty of swans. In summer there were astonishingly few corncreaks; grouse needed protection against predators and nested in cattle enclosures.
At the end of August several thousands of cormorants suddenly appeared at the NigulaLake, for the mainland a surprisingly long-term and earlier not used stopping place. The autumn migration of birds was delayed, particularly that of the nightjar. The last lapwings we met at Kalita on December 5th .