Image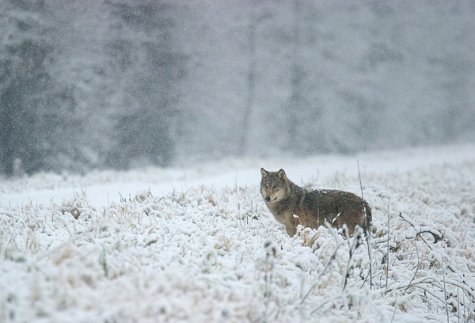 Body
Wolf in snowfall.
If you see a wolf and he has not noticed you it is an extraordinary experience. Enjoy the moment and save it in a photo if possible. Meeting a wolf is very rare and only very few persons have had the experience because the number of wolves is small and the wolf is an extremely cautious animal.
If you see a wolf and he also notices you the wolf usually flees very quickly since he knows that his only enemy is man. The wolf, like most other predator species, primarily relies on his sense of smell. If the wind does not bring the smell of a human to the wolf he may not necessarily  believe in his other senses and on an encounter with a human he may stay in an non-committal attitude.
A young wolf who lacks previous experiences of encounters with humans may become curious on seeing this strange object moving on two legs. The wolf is not an exception among our game animals; young inexperienced individuals of all species can behave similarly. Such a creature might also approach you out of curiosity when it sees you.
On meeting a wolf observe its carriage and behaviour carefully and react accordingly. If the wolf has seen you but approaches then retire because you may have to do with a sick animal. If you want the wolf to  leave  then be visible and make loud noises.
The main illness today that weakens wolves and reduces their ability to slay their prey animals is  mange. If the observed wolf has a damaged fur cover and is abnormally thin we have to do with a sick animal. Such an animal is certainly an increased danger for domestic animals and its fear of humans can have decreased.
A wolf should not be fed by humans in any circumstances. Wolf cubs are growing individuals, and are almost always hungry. Cattle breeders often throw the offall of their animals behind their animal barn where wolf cubs, in addition to all other omnivores,  become used to visit. Thus wolves get used to come to search for food from humans. So we get wolves moving in villages.
Note that humans are not on the menu of wolves. Don't think that wolves starve. Elks, roe deer, red deer (a significant prey species in the islands and increasing in southern Estonia), beavers, many other game animals and small rodents provide the wolf with a very abundant food basis that cannot be compared to  the 19th century when wolves really were short of food.