Autorid
Screencap from webcam Hagnat, LK forum
Translation Liis
Estonian text  posted 15.03.2018
Image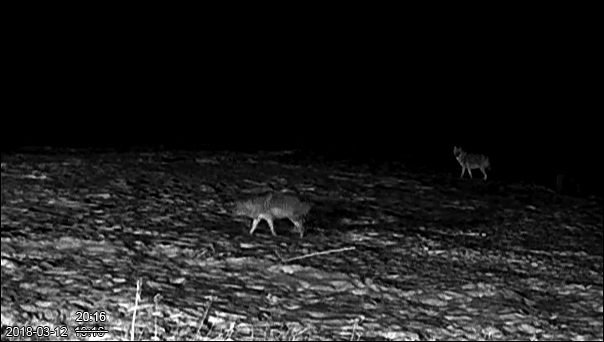 Body
A couple of days ago the jackals were moving on the southern shore of Matsalu after a break
Golden jackal    Šaakal or harilik šaakal          Canis aureus
The creatures had not been seen for a long time and with reason since the sea was frozen and the shore hidden in a snow cover. The thaw in between left them with the hope of finding something edible on the shore.
The jackals keep away from the territory of the wolves – although the camera has also caught a solitary wolf these rarely move on the seashore – the wolves look more towards the forest.
The jackals rove about during almost the whole year  jn  search of food near human habitations. For the truly undemanding animals all kinds of food waste will do for eating, animal as well as vegetabilic. With their strong jaws they even cope with frozen objects. It is certainly difficult for them but they manage.
Without wanting to moralise, waste should handled and processed carefully in the western shore households.