Autorid
Camera view is transmitted by  Teetormaja
Translation Liis
Estonian text posted 11.04.2018
Body
Direct stream | News | Forum
Stream for mobile devices (if the above does not work): Android, VLC
Older computers: Flash stream (select the link on left "Pesakast")
We will follow the doings in a starling nest box.
Screencaps by  Felis Silvestris, LK forum
Viewers will remember the events of last year between competing females that brought the nesting to a failure.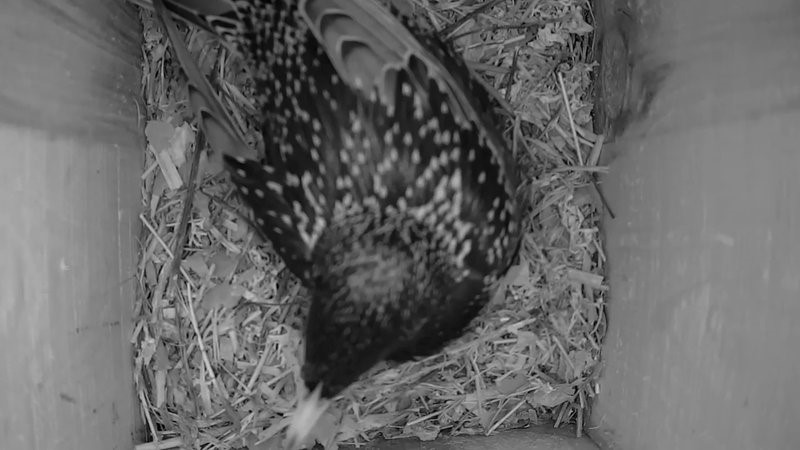 On March 28th the male bird arrived to the nest box in Saaremaa. The males of starlings, true to their nesting sites, arrive to Estonia  up to a week earlier than the females but this also depends on weather suitable for migration .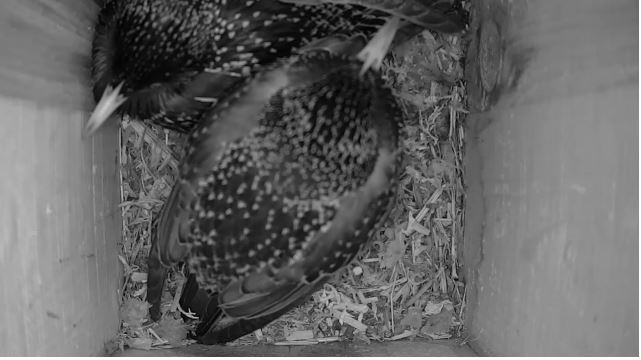 In the morning of April 2nd the female arrived.
How to distinguish between them? Usually the beak of the male is lighter or more golden yellow. The eye of the female is surrounded by a narrow yellowish-white eye ring. The eye colour of the male is brown.
Of course nest tidying started. Although Olle had cleaned the nest box and put some fresh material on the bottom, the starling couple emptied  the nest completely.
The weather was snowy and windy in between  so that a small snowdrift formed in a corner of the nest box.
The starling pair is busy  near the nest and spends the nights in it. We will keep an eye on them and when needed discuss their way of life.
By the way, the starling has been proclaimed as the bird of this year in Saaremaa.
The LK forum will keep their observant eyes on events.
Supporting: