Body
Butterbur        Harilik katkujuur        Petasites hybridus
At the same time as the colt's-foot the eye-catching but rarely occurring butterbur flowers.
Where can we find the butterbur in nature?
The butterbur prefers a fertile fresh habitat with clayey soil.. The banks of water bodies, and also the verges of ditches and ponds suit, but the plant has also reached the seashore. Suitable habitats may also be found in humid parts of old parks.
The comparatively little spread butterbur is a migrant in our nature. The spread of the plant was aided by the herb gardens of medieval abbeys where the butterbur was cultivated for using the infusion of its leaves and rhizomes against plague or epilepsy.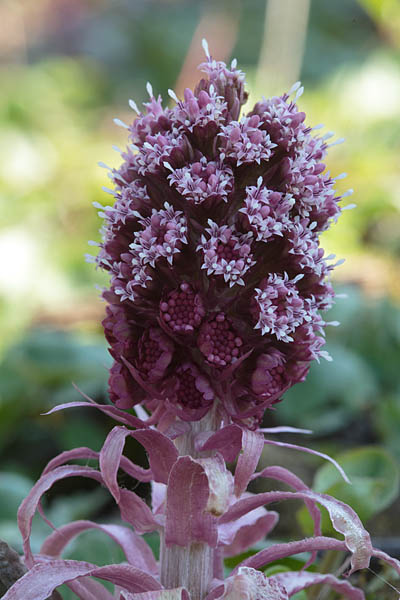 Common butterbur
The common butterbur becomes eye-catching from its purple-reddish capitulas  but the stem of the inflorescence is also reddish.
Insects fond of nectar readily visit flowering butterburs.
We do not notice any leaves on a flowering plant. As the flowering ends and seeds begin to ripen dark green leaves begin to grow from the ground. The further into summer the more luxurious the leaves become, and the height of a leaf in fertile habitats may extend to nearly a metre.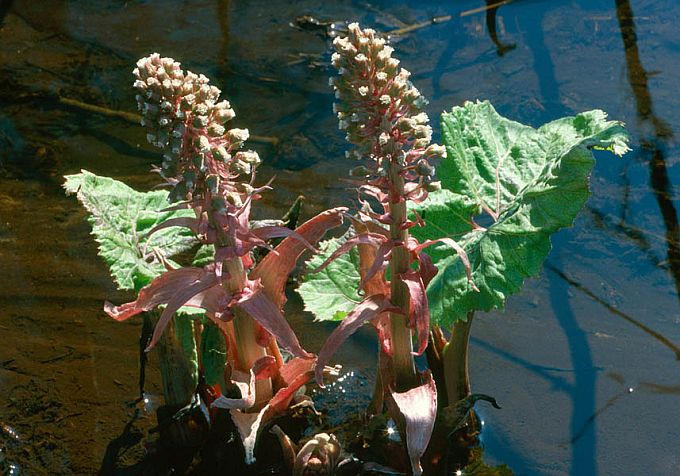 Common butterbur