Autorid
Video recorded by  Mogga, LK forum
Translation Liis
Estonian text posted 07.06.2018
The first of the osprey chicks was hatched in the night
Body
Osprey       Kalakotkas       Pandion haliaetus
Looking back in time we see how the nest life of Irma and Ivo has changed. On June 4 we noticed the first hatching chick in the nest.
Screenshot  Sappheira, LK forum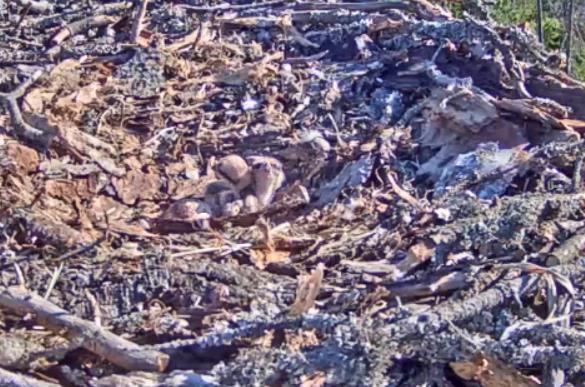 It is difficult to notice the tiny osprey chicks among the nest materials
The second osprey chick had hatched by the morning of June 6. The weather in bewteen had been rather bad and quite windy.
By lunchtime the third osprey chick had hatched too.
Video recorded by  Bea, LK forum
Both parents feed the chicks.
A detailed overview of the last days  is in the forum: LINK