Autorid
Screenshot from webcam  Seira, LK forum
Translation Liis
Estonian text posted 20.06.2018
Image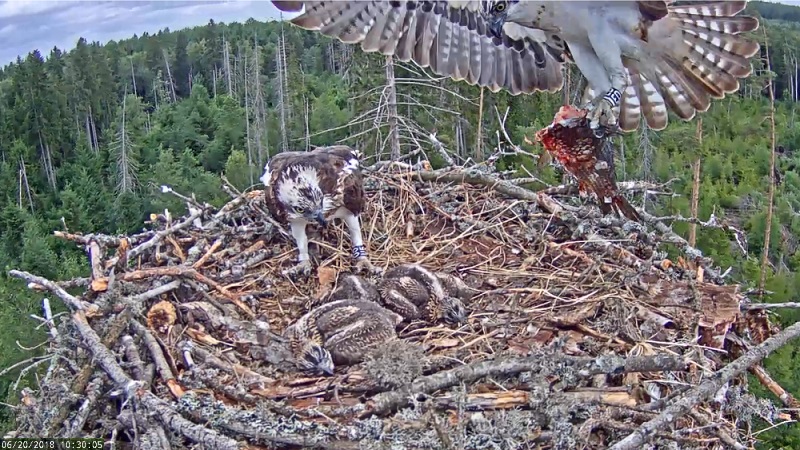 Body
Male Ivo arrives at nest with food
Osprey         Kalakotkas         Pandion haliaetus
The osprey chicks that hatched in the drought period knew almost nothing about anything but summery weather until the stormy day yesterday with gale winds but then mother Irma was there to cover the chicks carefully:
See the video that  Mogga, LK forum, recorded from the web camera:
For fish-eating birds the fall in water level from the drought makes fishing somewhat easier. The procedure is still that the male is busy with obtaining food and the female keeps an eye on the chicks in the nest, also letting the chicks have sun baths in the perching tree that is visible behind the nest while keeping an eye on them.
Small chicks, small worries but when the young birds grow the female too has to start to involve herself in getting food.
In the latest osprey news article we agreed that we calculate the age of the chicks in the clutch after the one that hatched as the middle one. The chicks hatched on June 4, 6 and 8 respectively. Thus the middle one becomes two weeks old today, but all the young ospreys are doing well, both  the one that is a couple of days younger as well as the few days older one.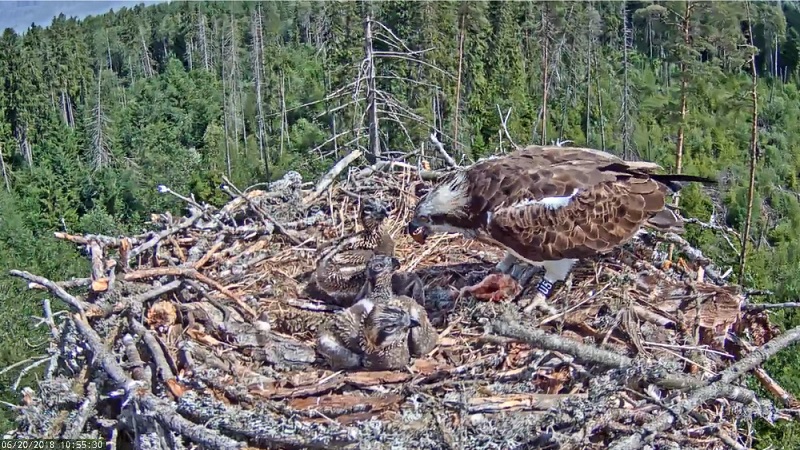 Mother Irma feeding chicks