Body
Sexually oriented behaviour between individuals of the same sex – climbing on back, copulating, seducing partner – has been observed in several bird species and mostly among females. The partners may for instance groom each others plumage, build or share a nest and even incubate eggs. Sexual acts between male birds are known from at least 93 bird species of which however only 18 cases (19%) have been identified in pairs in permanent relationship; most frequently male pairs are found among geese (Anseriformes) and suliform (Suliformes) birds. There are however only rare reports of common nesting attempts among male birds.
More than half of the about 10 000 bird species are passerines (Passeriformes), but among passerines living in nature only in 7,5% relations between male birds have been registered. Until 2010 only for one species – hooded warbler  (Setophaga citrina) – a relationship between males on the basis of nesting as well as incubation behaviour had been noted, but then researchers recorded a mutual nesting occasion also in south-western Australia among crimson finches (Neochmia phaeton).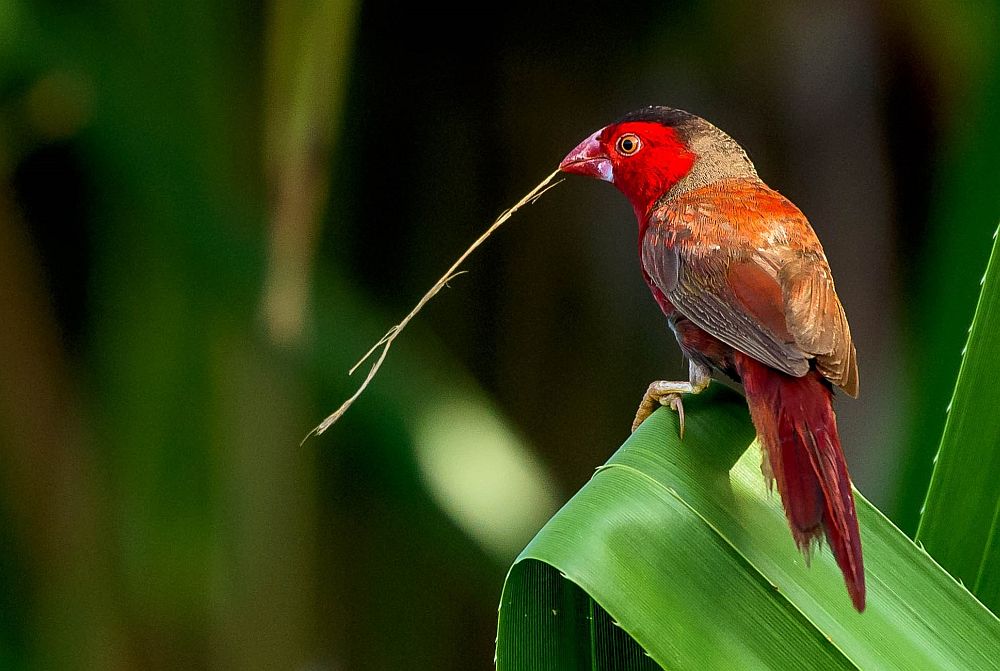 The plumage of the male of the carmine finch is carmine red corresponding to the species name / Photo: David Hamments (Flickr.com)
Corresponding to the species name the plumage of the males of the carmine finch is mainly carmine red; the plumage of the female is wholly brownish grey and only the cheeks are red. The species is socially monogamous and the pairs stay together for years; relations outside the pairs and the share of nest parasitism is not known. The crimson finches of an area are not territorial and may breed near each other; because of this the pair consisting of two male birds were noticed by the researchers. The pair built a nest together, lined it with feathers, guarded the nest together and incubated. In this case one male bird was familiar to the researchers since he had nested with three different females in the previous three years; he had altogether  had two successful clutches with six fledged offspring.
Together this pair in 2010 built four nests in two of which there was an egg from a female  probably nesting in the neighbourhood (generally a clutch has  five eggs). The first nest with an egg was destroyed, in the second nest with egg birds were seen at least on five occasions. After the presumed hatching period had passed the researchers removed the egg from the nest to examine it closer – the egg had been fertilized but the embryo that had passed 20-30% of its development had perished.
On the basis of one case it is not possible to make fundamental deductions about the mechanisms of formation of same-sex pairs in nature, the more so since in the case of passerines we have to do only with the second documented case. Still it may be assumed that it is not a question of a chance mistake since the plumages of females and males are notably different and the reason for choosing a partner is evidently something else.
It was known previously that a pair relationship of males occurs more often in polygamous species – the relationship does not bring a direct reproduction favour but if besides this relationship also fertilizing the eggs of female birds occurs the pair relationship of males will do no direct harm. The reproduction success may even increase. But in the case of socially monogamous passerines it is still an unexpected finding and  an exceptional phenomenon.
Kindel J, Legge S, Milenkaya O, Walters JR (2018). Male-male pair bonding, nesting and egg incubation in a wild passerine. Journal of Ornithology 159: 307-309. https://doi.org/10.1007/s10336-017-1495-y
Linnuvaatleja teadusuudiseid (Research news of magazine Birdwatcher) are selected  and edited by Marko Mägi, marko.magi/at/ut.ee, bird ecology researcher at the Institute of Ecology and Earth Sciences, University of Tartu.