Body
Map butterfly summer generation      Nõgeseliblika suvine põlvkond        Araschnia levana f. porsa 

 

Map butterfly spring generation     Nõgeseliblika kevadine põlvkond    Araschnia levana f. levana 
The spring and summer generations of map butterflies are quite different with respect to the colours and patterns of the upper sides of the wings . If the same species has different-looking individuals in summer and in spring scientists call it seasonal dimorphism. Earlier the individuals in question  were consider red as different butterfly species.
We can often observe that the females and males of daytime butterflies are not at all similar:  this is called sexual dimorphism. We will not talk about this today, just a reminder.
What then causes seasonal dimorphism?
The wing colour of the butterfly depends on the length of the day in the growth phase of the larva. From eggs laid by dark-coloured summer butterflies the larvae develop in August-September – at that time the length of the day already decreases. The larvae pupate, resting the whole winter in diapause. In spring we see the orange imagos flying in May but from the eggs laid  by them the larvae develop in June-July.- when we nearly have no dark time. Some the the dark-winged map butterfly imagos   we see the orange imagos flying in May but the egg laid by them develop into larva in June-July when we almost have no dark time. So the dark-winged imagos of the map butterflies develop in long day conditions.
We can meet the summer generation of map butterflies on forest roads and in open areas, or in varied cultured field landscapes. In Estonia they have spread from the east, about a century ago, and their numbers are slowly rising.  Yesterday they already flew at the northern coast.
The wing span of the summer generation is between 3 and 4 centimetres. The upper surface of the wing is black, the wing fringes black-white-patterned. A white cross band goes across the wings roughly in the centre, on the hind wing as a continuous line, on the fore wing broken or in steps, in addition small white dots. The females and males of both spring and summer generations are similar
The undersides of map butterfly wings: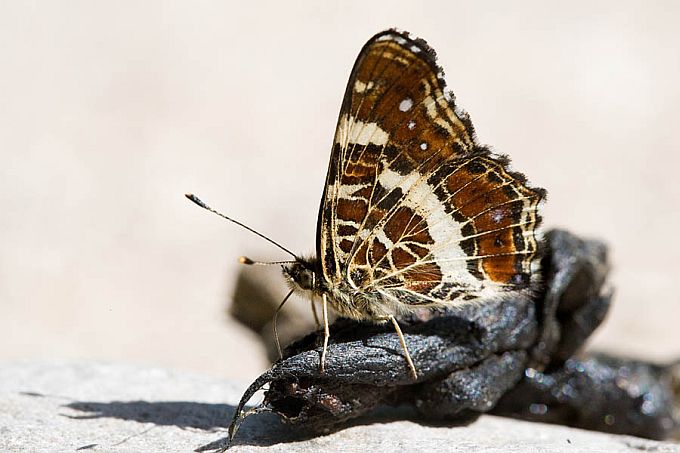 The summer generation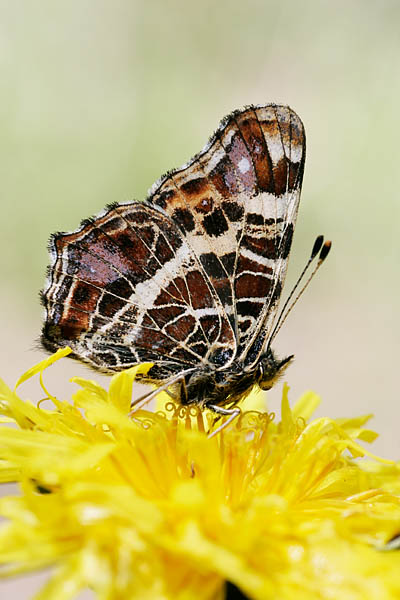 The spring generation
The spring generation's wing network has a whitish mesh pattern and on the fore as well as hind wings there is a large purple patch. The undersides of the summer generation's wings are more varicoloured. Everybody can note their own observations.
The flying period of  the imagos  lasts into mid-August. The black and furry butterfly larvae we can see in August on nettles where they spend a couple of days together after hatching before they find themselves a hibernation site.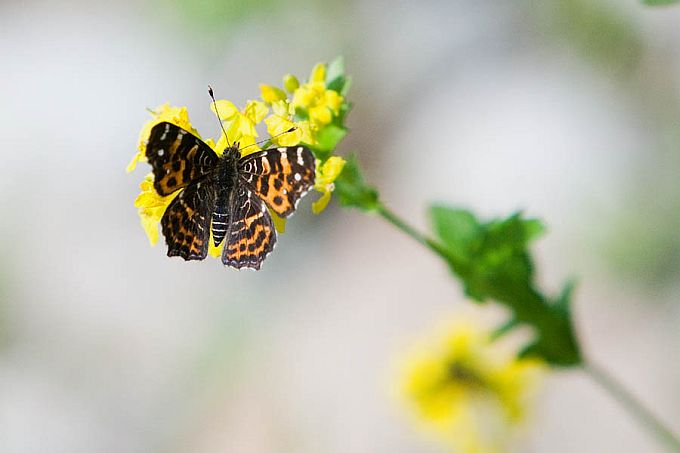 Springtime map butterfly generation
Soon we will introduce the admirals and emperors, a little larger than the map butterflies but rather similar.