Sisu
Estonian text posted by the Animal of the Year Team 07.08.2018
English translation Liis
At the same time that the lynx kitttens are romping in the Elistvere animal park and you can go there and see them, Remo Savisaar teaches those who would like to meet a lynx in nature how to turn their wish into reality.
In May this year a nice number was fulfilled -10!  Ten lynxes that I have met during the last three years in our nature. I will tell you a little story about the latest encounter.
First of all, to see a lynx you have to start dreaming about meeting the lynx!  I have done so for the last three years. But only dreams and sitting at home are not enough!
Secondly you have to give your luck a chance and go as often as possible to places where lynx(es) too are active. Lynxes mostly love large forest massifs but also operate in cultured landscapes with varied fields and forests. The home territory of a lynx reaches many square kilometres but they also have their favourite spots where they may be seen moving more often and where their habitual roads bring them time and again.
One such basic area of mine is a side road in the forest that in winter is used by 0-2 cars in a week besides mine. It is a good place to read the track book. In winter the reading of the snow cover is simple and so I learnt that in the heat period at least 3 lynxes operated there. Every time that I went there and searched for and studied the tracks I found some new ones. Once, after an evening forest tour, I went back – that time with the aim to hear the owls at night – even then I found that during the hour and a half that I had been absent new lynx tracks had appeared there. Which also revealed the place where hazel grouse had been waylaid. But prey was not caught this time..
Why do we meet lynxes so seldom although we can see the tracks? 
Mainly because of the fact that a lynx operates in the shelter of darkness and hidden. In my experience the first reaction of a lynx on noticing a human (it also depends on the distance) is not fleeing which would make it easier to notice but instead to make itself unnoticeable. For instance a lynx encountered in the forest stopped, sat down and also bent its head – and it had disappeared! So a lynx that is in the forest and makes itself invisible in this way is rather impossible to discover.
Coming back to that forest road – in that area quite a lot of roe deer, hazel grouse, white hares are active- that is the basic food of a lynx. All this is motivates why a lynx is active there. I often see there that the lynx has moved along the forest road for many kilometres – for seeing and observing lynxes it is an ideal place!
Meeting a lynx 
Having found such a place mainly tenacity bears fruit! I often like to say luck, but actually for that you also have to work, going there constantly, studying, searching for tracks, in all giving luck a chance. The best time for an encounter is from twilight to sunrise. The best time of the year is the heat period, that is February-March.
An encounter on the forest road
We were driving with a friend at the end of March on the forest road mentioned above. I had told him that lynxes are active there, each time I find new tracks. Having reached the basic spot and turning out of a bend our thoughts were of course with the lynx. And there it stood! Wow! But seeing through the camera optics we were hit by a surprise -  DOG?! But at least we had had an adrenalin kick. This was the first dog that I had met there – behind the bend his master was hidden too.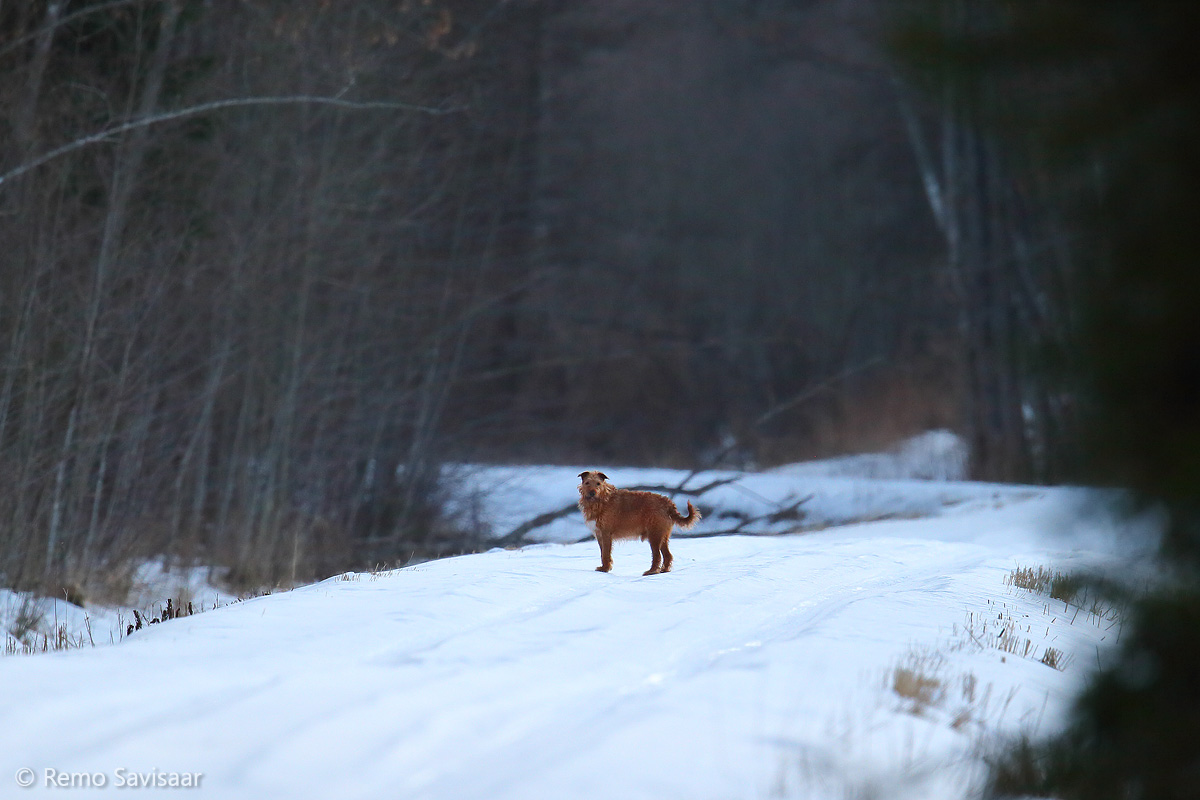 At last! About the middle of May when the snow had melted long ago and full spring was here we were again driving with my friend on that forest road. Thoughts of course as ever on the lynx because the last times I had noticed fresh lynx tracks on the gravel. We had again reached that basic site and noticed an animal far at the end of the road. The first thought was of course that it is a lynx!  The animal moved quietly on. A glance through the camera optics revealed  that it was a lynx. This time we had at least so much luck that the meeting was documented by photos. We could observe the lynx for about a minute until it dived into the forest and disappeared. A portrait did not come out of this meeting. Probably the lynx crouched down again in the forest and so it stayed unseen by us despite waiting and searching (without getting out of the car).
Remo Savisaar