Autorid
Photos Tiit Hunt and Arne Ader
English translation Liis
Estonian text posted 10.08.2018
Image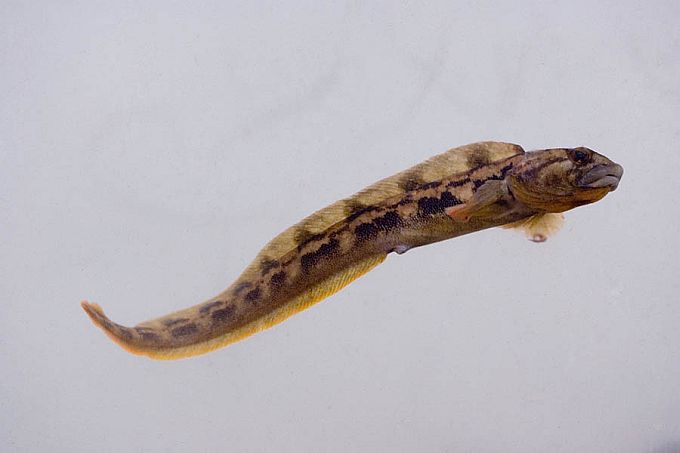 Body
Viviparous eelpout or blenny    Emakala or kiviluts        Zoarces viviparus
The mating period is comparable to that of  mammals; the facts are as follows.
The male fertilizes the roe inside the female fish and in the ovary of the female fry develop from the roe grains. Thus the eelpout is a viviparous fish, or our only one to give birth to living fry..
The "delivery" or births start in November and may last until February. Of course the progeny of the female eelpouts is not comparable to that  from spawned roe because only a few tens up to four hundred live fish fry are born. The fry at  once start an independent life in the shelter of the seaweeds.
The marine species blenny or eelpout has a malleable body structure similar to that of the fresh water species burbot, and also a similar arrangement of fins. During the mating period the edge of the normally yellowish back fin turns brick red. There are no scales in the mainly brown-coloured skin of the fish; the belly is whitish.
Habitats are shore waters with sandy or rocky bottoms, to a depth of 25 meters. It occurs numerously in the eastern part of the Gulf of Riga between the islands of Ruhnu and Kihnu and also in places in the Gulf of Finland.
It feeds mainly on the sea bottom fauna: mussels, the  Baltic macoma, small crustaceans and   isopods ... In autumn and in spring  eelpouts devour the roe of the spawning Baltic herrings.
In the food chain the eelpout is a prey for predatory fish such as  perches, cods, eels, sea trout and for various sea birds, particularly cormorants

The eelpout is the Latvian national fish and no major event passes where eelpout dishes are not served – the delicate white flesh of the fish is made into jellied dishes and also smoked. The bones of the fish when prepared hot become green-coloured from a phosphorous-containing pigment, vivianite. In any case worth a try ..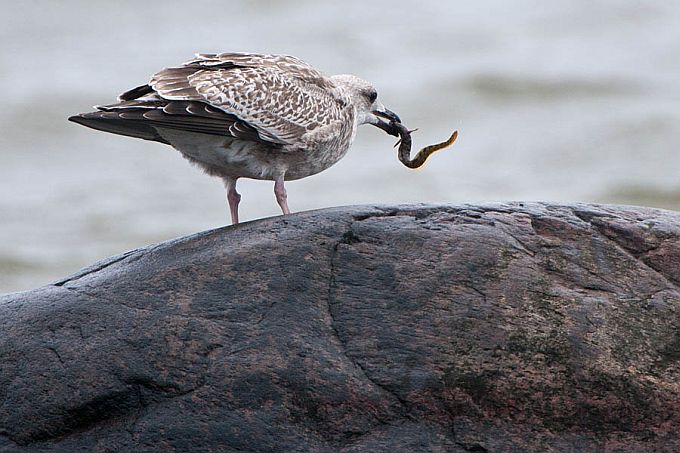 Herring gull with eelpout