Autorid
Screenshot from webcam  IceAge, LK forum
English translation Liis
Estonian text posted 27.06.2018
Image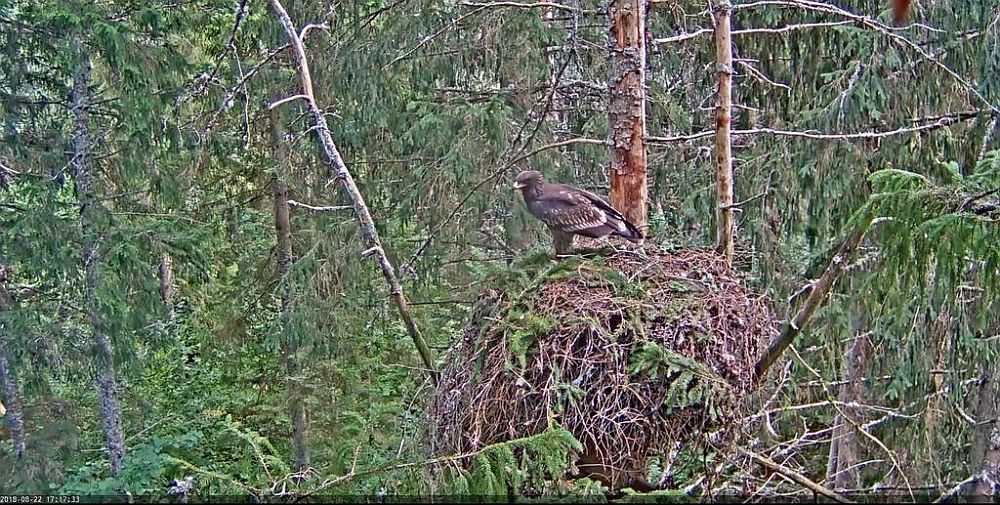 Body
A really handsome greater spotted eagle juvenile that will be three months old on September 1st
 

 

Greater spotted eagle       Suur-konnakotkas         Aquila clanga or Clanga clanga

 
The peaceful breeding period in the nest of greater spotted eagles Tiiu and Tõnn, famous even in Europe, is coming to an end.
In nature it is extremely complicated to distinguish between greater spotted eagles and hybrids (where one adult is a lesser spotted eagle) by the exterior even for eaglemen, so we will not even begin to present the small relevant details in the exterior. But for  information, in our nature this year a couple of  pairs of  only greater spotted eagles nested.
Yesterday the nest neighbourhood became quite quiet but a few days earlier spotted eagle calls were still heard in the vicinity  although already from far away.
Tonight's surprise was that the family "baby" arrived to the nest at about six o'clock . Maybe it had made a longer orientation and experiences gathering tour with the adults?
In the camera the birds were briefly visible three times but the shrill calls of the eagles were audible during three hours with brief pauses. They also stayed for the night near the nest.
Video recorded by  Quest, LK forum
Female brings evening meal to the nest