Body
Canada goose         Kanada lagle          Branta canadensis
Barnacle goose      Valgepõsk-lagle        Branta leucopsis
The large Canada geese are a foreign species brought to Scandinavia by humans in 1992. During the migration period we notice them in the migratory flocks due to their size but not because of their numbers. In recent years Canada geese have started to breed in Estonia to a small extent.
Let us compare the size of the geese. While the body length of Canada geese may reach up to a metre, the barnacle geese remain smaller by a third. While the smaller females of the Canada geese weigh from two and a half kilos up to almost six kilos the weight of the large male birds may be more than six kilos. The weight of barnacle geese stays around a couple of kilos
The throat patch of Canada geese reaches the side of the neck, whereas the forehead, cheeks and throat of barnacle geese are off-white – this much for comparison .
The migration of the Branta geese is noticeable throughout Estonia
Barnacle geese are the most numerous among the geese migrating through Estonia – as an estimate up to about seventy thousand individuals.
The passing migrants nested in the tundras of Russia, at Novaja Zemlja and also at Svalbard. D
Small breeding colonies have appeared in the last decades on the islands in the Baltic, but this year also more than a  hundred barnacle goose pairs bred in Estonia.
Only some decades ago the barnacle geese stopped in Estonia only during the spring migration. Now they are here in the autumn until a snow cover arrives which of course is a problem for farmers.
For foraging large open meadows and fields are suitable.  They may be quite far from the overnight areas.
With their noisiness a passing goose flock catches an observer's attention although it does not sound like the characteristic goose cackle..
Observations of barnacle geese in recent weeks : LINK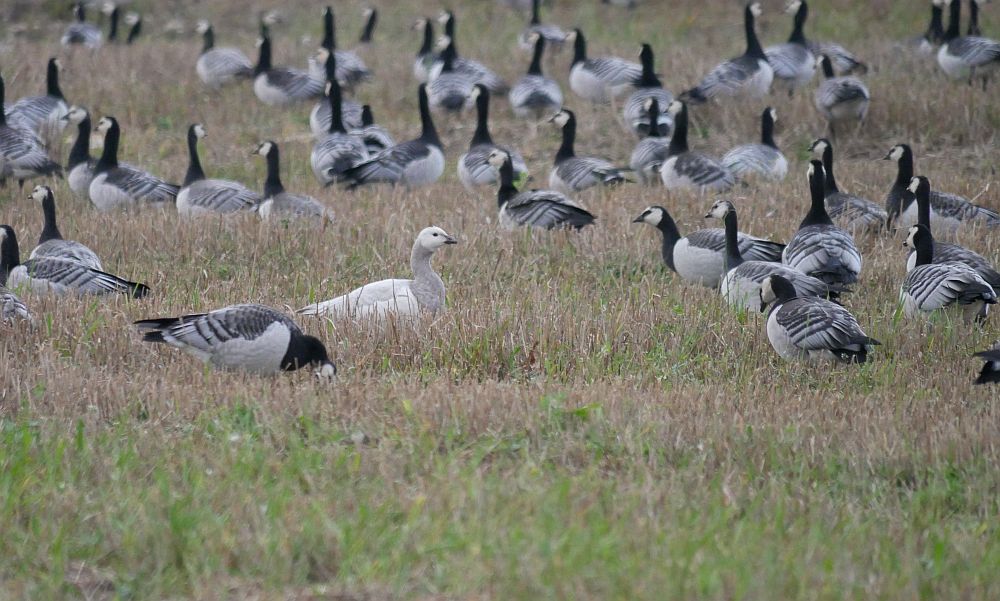 The albino barnacle goose is visible in the video too