Autorid
Video Karl Adami, www.karladami.com/et/
Photo Arne Ader
English translation Liis
Estonian text posted 23.11.2018 
Body
Bank vole       Harilik leethiir or leethiir       Myodes glareolus
The bank voles are most intensely busy when dusk arrives, but in the current weather, with little natural daylight and generally grey, in daytime too.
The fur of the bank vole is reddish brown on the back and grey on the abdomen. The lighter backs of the ears is a characteristic feature. Body length eight to ten centimetres, in addition the tail length, about half the body length. The weight of course depends on the age of the creature, varying from about twenty to almost forty milligrams. On the forefeet four toes, on the hind feet five. On the ground they move by jumps.
As herbivores they still look for green plant parts, all kinds of seeds and fruits. This year there is not much hope of nuts and acorns. Locally the summertime drought the yield of mushrooms – bank voles use mushrooms for food. To some small extent they look for insects. their larvae and invertebrates. To a small extent bank voles collect winter stores.
In order to stay alive bank voles must eat at least ten times during a 24-hour period and the food amount represents 80% of the body weight of the animal.
Initially bank voles were forest animals but nowadays they also inhabit felled forest areas – they like to operate in the clutter of branches. Ever more often we also meet them in city parks.
They create a system of burrows between the tree roots. In spite of  the risks they also move in mole tunnels and are busy in suitable waste heaps. The skilled climbers sometimes even use the nest boxes of birds. Bank voles avoid grass areas. 
Probably they are one of the most numerous mammals in Europe although they do not breed in winter.
Bank voles are considered to be forest pests to some small extent since they use the bark of young trees for food. But it is worth knowing that bank voles are important carriers of various strains of tic encephalitis and hantaviruses in Estonia.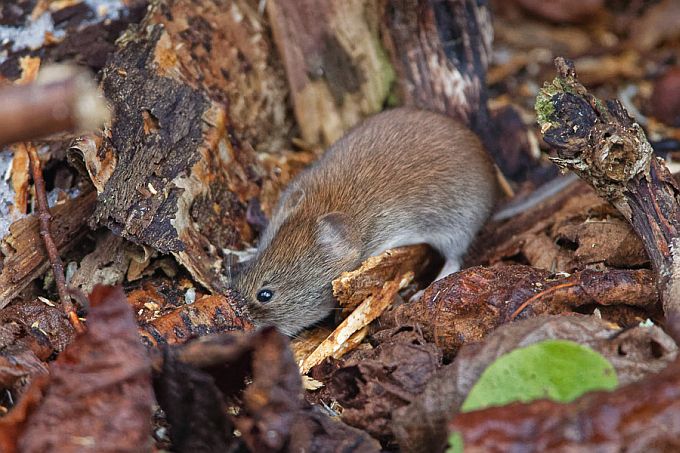 Bank vole