Autorid
Text and images  Tiit Hunt, www.rmk.ee
English translation Liis
Estonian text posted 27.02.2019
Body
Most frequently new species have arrived to Estonia aided by humans, unintentionally or intentionally. Those that arrive naturally, so  widening their spreading area, are few. One such new settler besides the surprising jackal comes from the fish realm.
The small European bitterling (Rhodeus amarus), up to 10 cm long, was discovered in the Pärnu  river by ichthyologists only last year in spring. Obviously tens of bitterlings will not have  happened to come into the Pärnu  River waters overnight immediately before the discovery of the new species. They must have been living in the river for several generations already. The surprising fact is that the species was discovered only now. Well, a serious fisherman does not have the time to root around among weed fish; he notes larger fish that have a market value and a recognized taste. The bitterling has neither the one nor the other, as its name implies it tastes bitter.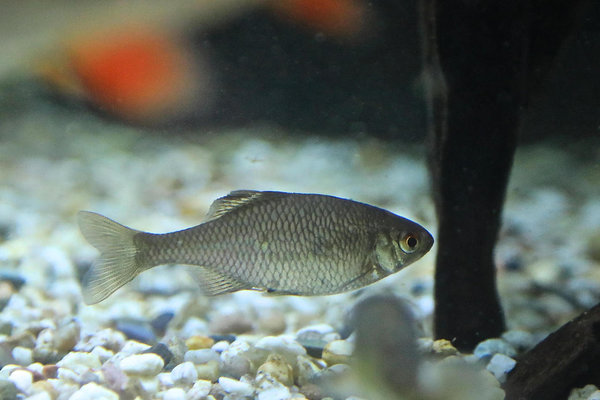 During the spawning period from April to June the males in wedding turnout with bright pink sides and a red anus and dorsal fin might catch note, they seem like aquarium fish.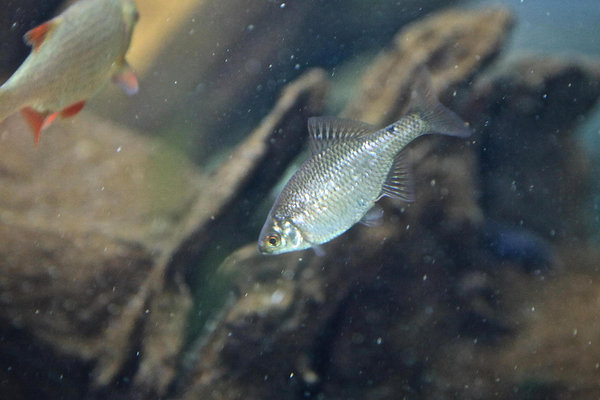 As shown by the photos the photographed female bitterlings have a quite modest appearance and the bluish streak running along the tail stem is not noticeable. The species is common in Central and Eastern Europe, also in Asia Minor.
The bitterlings found in Pärnu  River have spread here from Latvia where the species is widely found. It is also likely to occur in the Koiva  River basin. The spread of the species in Estonia has yet to be investigated. The habitats of this fresh water species feeding on invertebrates at the bottom and parts of plants are water bodies with a rich flora – ponds, ditches, old river beds. It may also occur in slowly flowing river sections with sand or mud bottoms. The sedentary fish species, keeping near vegetation, has despite this enlarged its habitat towards north.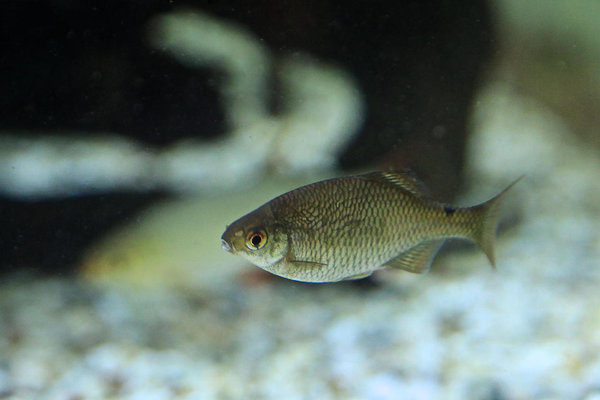 The propagation strategy of the European bitterling is very peculiar: unlike our other fish species bitterlings place their roe in the gill cavity  of living river or lake mussels. In order to bring the roe grains there the female fish develops a long egg-laying tube or ovipositor from the urogenital tract by which the roe grains are inserted in the mantle space of the mussel. The male bitterling then utilises the water that the mussel breathes to get the milt to the roe grains. The cloud of sperm excreted by the male enters into the mussel with the breathing water whereupon the roe grains in the gill chamber are fertilized. The spawning takes place from April to June. The larvae stay in the gill hollow of the mussel until the egg sac is used up. After about a month of development the hatched fry exit and at once begin to feed actively.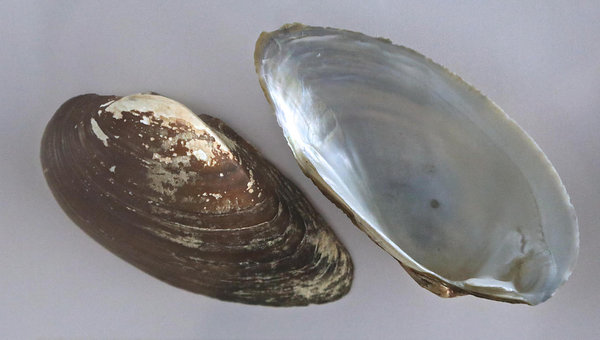 Earlier the female bitterling was used to carry out pregnancy tests for women …. such an interesting new fish species.