Autorid
Screencap from webcam  IceAge, LK forum
English translation Liis
Estonian text posted 25.03.2019
Image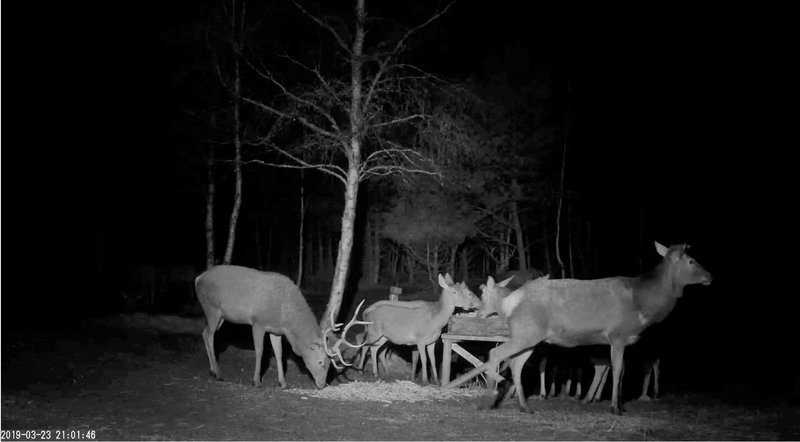 Body
Red deer       Punahirv     Cervus elaphus
All red deer stags will soon be without antlers (in some years a little earlier, in others a little later).
Large red deer stags weigh up to around a couple of hundred kilos, the females half less. Good to know when you should happen to see both sexes in camera view. The body length of the stags reaches a couple of meters, shoulder height more than a meter – the sexual dimorphism is visible to the eye.
The shedding period of antlers lasts. Constant viewers of the webcam have noticed that the mature individuals with the most powerful antlers start it.
Young stags, a few years old, can still be seen wearing simple stick-like antlers in April.
The age of red deer bulls cannot be determined from the number of tines or points  of the antlers because the development of the antlers depends primarily on feeding conditions .
We can estimate the weight of a pair of antlers roughly. For instance if we count five tines on one antler of an adult stag such a pair of antlers may weigh up to five kilos. On aging, or from their tenth year, the development of the antlers of the red deer stags recedes.
When the old antlers have been shed in the forest the deer at once start to grow new ones instead and this visibly to the eye, up to a couple of centimetres in 24 hours.